The word that struck me from the beginning in this film is LOUD. From the opening credits, Pete Travis' not-too-distant future romp is almost deafening but not without reason.
America has been rendered a radioactive wasteland but for the sprawling megacities which have developed. Mega-City One, home to 800 million people, is the site for Dredd (Karl Urban), a Street Judge charged with enforcing the law; as the saying goes, judge, jury and executioner. Criminals rule the streets of what is a chaotic, impoverished jungle. Things are made worse when a new scourge comes to the city in the form of a drug called Slow-Mo which slows time perception to 1% of normal.
When Dredd is assigned to evaluate the performance of rookie young psychic, Anderson (Olivia Thirlby), he grudgingly accepts. He is tasked with "throwing her in the deep end" but as Dredd growls, "it's all the deep end." Anderson nominates a triple homicide in a mega-development called Peach Trees as their assignment where it just so happens drug lord Madeline Madrigal (Lena Headey), or Ma-Ma, holds a reign of terror. Before long, a suspect is arrested but before they can escape Ma-Ma orders the complex to shut down all communications and exits to the outside  and a bounty on the judges' heads. It seems they will have to blast their way out.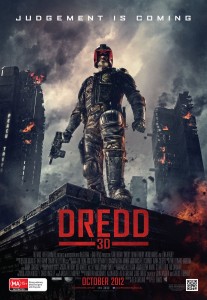 Based on the characters created by Carlos Ezquerra and John Wagner and written by Alex Garland, everything about this film is mega. The scenery, the noise, the scale, the violence, Paul Leonard-Morgan's score; everything. Taking the theme of the effects of Slow-Mo, the special effects guys even made this mega-graphic. Bullet entry and exit wounds, rippling skin folds, exploding cheeks, 3D blood spatter and even collapsing skulls. All of this is shown in its gory glory and is not for the faint hearted. But, you cannot deny these scenes are spectacularly done.
The joy of this film is that it doesn't take itself too seriously. There are tongue in cheek moments of self-deprecating humour with some great one-liners. When Dredd suggests they turn their guns to silent at about half way, it seems like he is doing us a favour rather than himself. On the whole, equal time is given to plot and extravagant violence with little sentiment or sympathy.
Urban (The Lord of the Rings: The Two Towers; Return of the King) is clearly having a ball playing this unstoppable force. He doesn't even once stop to take off his helmet. When things start going wrong and the body count starts to stack up, he just continues to go through the motions in good dry humour like a seasoned pro, cracking some good lines in the process.
Thirlby does what she has to do and uses her psychic abilities to good effect. Lena Headey also makes for an ice-cold villain not averse to collateral damage. But the special effects are the main attraction.  Cinematographer Anthony Dod Mantle shot this on 3D cameras and contrary to a lot of 3D duds, it is very effective in getting you closer to the action. You even get red and black glasses so that is a win in itself.
This certainly won't be everybody's cup of tea. The violence may have been a little much and it certainly isn't Batman but for exorbitant body counts, great special effects and the occasional gag, this was a lot of fun.
Dredd 3D is in Australian cinemas from Thurs 25 October through Icon Films.