Without any major episode cliffhangers, The Newsroom ended on a satisfying note last night in the season finale. Ominous music did play while Will drove home with his security guard, tempting questions like "Are they going to be hit by another car and seriously hurt?" or "Is something going to blow up?" But no, the scene just faded.
The characters I create are hyper communicative people. Earlier this year, Aaron Sorkin told Fresh Air's Terry Gross that the characters he writes are hyper-communicative people, and he could not be more spot on. When we think of communicative however, we often think of people who can talk well, interpret meaning quickly, and get things done efficiently. We forget that communicative people do not always get it right, but stumble and fall along the way. The Newsroom shows moments of idealistic people stumbling and falling along the way to producing news that is morally responsible.
Over the last ten episodes we have seen the idealistic fall from grace with scandal after scandal. News anchor Will McAvoy (Jeff Daniels) is far from perfect, as we have been shown continually. He has anxiety, depression stemming from a broken heart, unresolved issues of anger and suffers from delusions of grandeur (that are frequently shattered.) Despite these shortcomings, he still does what he knows to be right.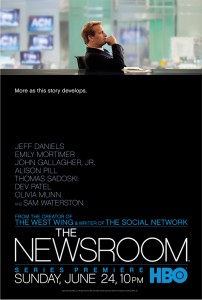 Daniels' performance as Will smartly oscillates between supercilious and noble. All of the other characters are generally good people on the whole, but Will McAvoy, however, is at war with not only his public image, but with himself. Building himself up from the rubble, Will is confronted with the choice of what type of man he wants to be as well as what kind of newsreader he should be. The man who exists by the end of the season is still a tad downtrodden, but defiant in his stance for exposing the truth.
Emily Mortimer is continually a treat as Mackenzie, commanding comedic and compelling attention at all times. For all of the annoying criss-cross dalliances, I actually want to see Mac and Will back together. This is due to Mortimer and Daniels, as I really should be over their quarrels by now. Mortimer should be rewarded with an Emmy nod (if not win) with Sam Waterston deserving a Supporting Actor win, and Jane Fonda scoring a trophy in the Guest Actress Drama category.
The other love triangle though unsurprisingly hit yet another sour note. By episode ten we clearly understand that Jim (John Gallagher Jr.) and Maggie (Alison Pill) should be together. But they're not. Until they kiss in the rain! Serendipitous? No, not at all. And of course, dramatic conflict tells us that for every step forward, there will be ten steps back. So Maggie moves in with Don (Thomas Sadoski) while Jim continues to stare lustfully across the news room. A surprising development saw that Sloane (Olivia Munn) correctly stated that she and Don should be in a relationship. For all of her so-called inabilities to decipher everyday life, Sloane made tremendous insight into the whole tired love triangle, now set to become a love cube.
Compounded with issues of the day (voter ID fraud and a News of the World-esque hacking scandal), The Newsroom displayed an intelligent discussion on zeitgeisty topics, while developing a work-based relationship series. With Leona (Fonda) at bay, where will season two take us? Branding the Tea Party as the American Taliban surely won't be free from drama as Will goes about his news anchoring duties. Season two will be a while off, so until then, we'll just have to wait.
The Newsroom airs Monday nights on the SoHo channel. Read more episode reviews of this season.