Just when we thought that Kath and Kim's Sandy Freckle (William McInnes) took out the greatest name title on Australian television the genius that is writer Andrew Knight came up with super crook Lane Hole (Phil Lloyd).  Yes.  Lane Hole.  He is exactly what you would think a Lane Hole would be too.  A real jerk.
The cats out of the bag and Scarlett (Danielle Cormack) along with David Potter (Matt Day) have been 'outed' with their infamous lift photo released to the media by dirty pollie Cal McGregor (Damien Garvey) and Scarlett vows revenge.  Meanwhile there seems to be some double standards going on with Barney (Russell Dykstra) actually hurt by this and yet he happily nailed Nicole (Kate Box) while Scarlett wore it because of the 'Cleaver (Richard Roxburgh) affair' a million moons ago!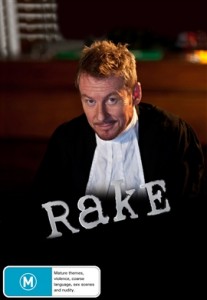 It was a wonderful writer based in-joke to make Nicole's faceless new husband 'Bevan' to be given the last name Lee, who is the mastermind writer behind countless Aussie dramas.  As Barney and Nicole try to remain friends their time together is strained and damn awkward and although they are denying they have feelings for each other it's obvious this situation is going to end badly and with both parties unleashing hurt on their partners.  They struggle to talk the talk of friends so I doubt they can walk the walk and not sleep together.
Potter drops his libel case against Cleave as members of his own party call him to resign or at least go and sit on the backbenches.  Where can he go from here?
Last night's episode saw the death of Cleave's dad and after accidently attending the wrong funeral our Cleave rocks up to a furious sister Jane (Sonia Todd) who Home and Away viewers are used to seeing as Principal Gina and not used to her screaming 'You fucking snake in the grass!'.  Great moment nonetheless.  When it's realized that their father has been conned out of all his money (and Cleave's sister's inheritance) by the sneaky Lane Hole our Cleave gets drunk and hires a goon to beat up Mr. Hole.  What poor old Cleave doesn't know is that goons 'sub contract' these days.  When Lane Hole's elderly neighbor is murdered he realizes the goon got the wrong address. And misunderstood 'pinch'. Oops.
Ending with poor repentant Cleave at a prayer meeting with Fuzz (Keegan Joyce) screaming 'Jesus Christ' on his knees and being arrested for manslaughter.  It really is the bottom of the barrel for our hero once more.
Rake airs on Thursdays at 8.30pm on ABC1. Read more reviews in this series.