They're still making Paranormal Activity movies? You mean there's actually more of the story to tell? Apparently so. The fourth instalment takes place five years after the disappearance of Katie (Katie Featherstone) and Hunter in Paranormal Activity 3, where a suburban family begins to witness some unexplainable events after a young boy and his mother move in across the road.
The family consists of two (fairly superfluous) parents, a daughter Alex (Kathryn Newton), an adopted son Wyatt (Aiden Lovekamp) as well as Alex's boyfriend Ben (Matt Shively).  They take in a young boy named Robbie (Brady Allen) after his mother falls ill and is taken to hospital and, not so surprisingly, this coincides with the troublesome behaviour that rears its ugly head.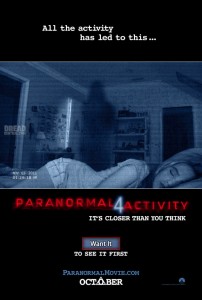 Writers Christopher Landon (Paranormal Activity 2 & 3) and Chad Feehan are keeping up with the times by introducing news ways the audience can watch the family go about their everyday business, primarily through Skype on Alex's MacBook and even Xbox Kinect (hello product placement?). The film is set in 2011, after all. Perhaps the film's strongest point is the casting of both Alex and Ben. These are people the audience actually cares about as they're quite funny and intelligent, and in the film for more than just their deaths.
Directors Henry Joost and Ariel Schulman (both behind Paranormal Activity 3) haven't given us anything new here. While this instalment is quite slow, there are definitely some scares when the film reaches its climax. However in an extremely disappointing move, the absolutely laughable ending seems to negate any credibility earlier on.
The Paranormal Activity series had such a modest beginning, but quickly turned into a money-sucking vacuum, with audiences all over the world flocking to see new ways that houses, and people, can be haunted. Will there be a Paranormal Activity 5? Probably. Will it be any good? Doubtful. For the most part, it seemed as though originality left the series before it even really began.
Paranormal Activity 4 is in Australian cinemas from Thursday 18 October through Paramount Pictures.