There's something unsettlingly charming about Aubrey Plaza. She plays the same role in every film and incidentally in every interview and although she expresses minimal emotion and seemingly delivers every single one of her lines with severe sarcasm, she still manages to constantly have me on her side. Darius (Plaza) in Safety Not Guaranteed is no different.
Not altogether sure of her intentions, Darius the unpaid intern at a Seattle magazine, is encouraged to strike up a relationship with a man named Kenneth (Mark Duplass) who has taken out a bemusing ad in a local paper asking for a time-travel companion, and find out the story behind the story. Inspired by an ad that really appeared in a newspaper as a filler sometime in the '90s, Safety Not Guaranteed has the potential to be a truly original science-fiction film but turns out to be a twee indie romance about hope, truth, delusions and growth.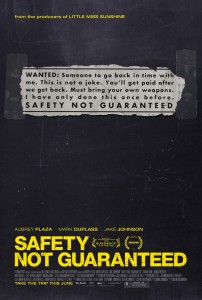 Jake Johnson (best known as Nick from New Girl) is Darius's boss on the story and cements his place as Hollywood's ultimate subplot guy with an offshoot story involving an old flame from high school and the young Indian intern also along for the ride. While it's not clear if Kenneth has in-fact developed the means to time travel, the bond that forms between the unlikely companions is affectionate and the chemistry surprising considering Plaza's stuttered and awkward delivery. Her character is spontaneous yet reserved and in Kenneth she has found a kindred spirit in loss and regret, both real and imagined.
The final speech from Kenneth about why he needs a companion bought up memories of Amy Pond's final speech and the last episode of Doctor Who and how time-traveller's need a companion, to stop them when they get carried away, to have their back when things go wrong, but most importantly, someone with whom to enjoy the experience.
Surprising and sweet, director Colin Trevorrow and writer Derek Connolly make Safety Not Guaranteed is a perfectly calibrated quirky rom-com with a little bit of science-fiction.
Safety Not Guaranteed is in Australian cinemas from Thurs 18 October through Rialto Distribution.