I usually steer clear of John Hillcoat films, not that they're bad, but because their hyper-realism leaves me feeling utterly depressed and questioning the morals of the world. But the allure of a Nick Cave screenplay and Tom Hardy being a babin' bad ass was too much, and I was pleasantly surprised.
Yes, Lawless is based on a true story and thus the violence is over the top and gruesome, but the film is offset by great character development and subtle humour. The great thing about films based on true stories is that they're often more ridiculous and over the top than fiction films, and the story of the Bondurant brothers (played by Shia LaBeouf, Hardy and Jason Clarke) is perfection.
Set in the early 1930s when prohibition had been around for a decade and bootlegging was down to a fine art for some people, and had become a deadly trade in the cities of America. The Bondurant's were moonshiners in the Franklin County, and the big shots from the city wanted a piece of the peaceful operations going on in the city.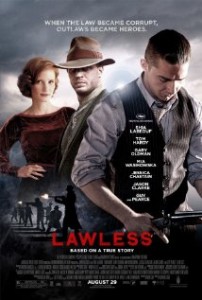 This film, much like Boardwalk Empire before it, worships the law breakers but goes one further by showing that the authorities were often the biggest cause of unrest and increased violence and in this case the authority is a nancy-boy psychopath with a taste for the macabre, played to perfection by a very pitchy and flamboyant Guy Pearce.
Despite the violence I left this film feeling warm-hearted; the invincible Bondurant boys are a legend I'm glad Hillcoat and Cave brought the big screen and I'm sure many a cinemagoer will feel the same. Mia Wasikowska and Gary Oldman were under-utilised but the story wasn't really about them, and if that's the only criticism I have then it must have been as good as I first thought.
Lawless is in Australian cinemas from Thurs 11 October through Roadshow Films.