"I would kill for this job but the people I want to kill are offering me the job."
Woody Allen's third film with Dreamworks plays out like one of his earlier comedies, except with many failings. Allen plays Val, a failed director, who used to be on the cutting edge, now desperate for a job. His ex-wife Ellie (Tea Leoni), now married to a studio head, headhunts Val to direct a particular New York film. With retiscence from most involved, Val ends up shooting the film. Almost half way through the film, the hook of the story occurs: Val suddenly develops psychosomatic blindness. From here, Val needs constant assistance to direct the film, without letting anyone from the studio know the truth (aka enter chaos, conflict and tension).
Hollywood Ending references relationships between audience and filmmakers early on, where Val defends his choices of artistic integrity. One background dinner guest character mentions that if you don't make films for your audience then what you are producing is simply artistic masturbation. Allen, frequently accused of producing films on a whim, has placed much artistic perceptions of himself in the role. During a discussion of Val's credentials by the studio heads, executives mention many similar artistic tendencies.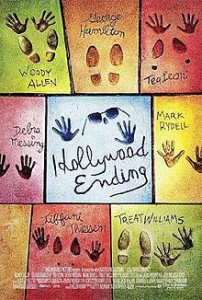 Allen is fine, especially with blindness, but gives nothing special. Tea Leoni misses the mark (despite being a good actress) given the straightest character without anything fun. Treat Williams and Mark Rydell have a better opportunity with more interesting characters and play them as best as they can.
The film's biggest failing is that it is just not that funny. Despite premiering at Cannes as the opening night film, the performances are lacklustre, with Debra Messing providing the best performance with enthusiasm and exuberance. Messing's character also notes the largest age gap between Allen and a love interest (thirty-three years to be exact, beating the Mariel Hemmingway age-gap. This doesn't include the father-daughter type relationship with Scarlet Johansson in Scoop).
Hollywood Ending exists in a succession of films that will be easily forgotten, and considering the body of work of Woody Allen, it is not too hard to understand why.
Read more entries in our Wednesdays with Woody feature!