Celebrated author Clay Hammond (Dennis Quaid) addresses a lecture theatre packed with literary nerds. He is there to give a reading from his much anticipated new book "The Words". The story goes that a young writer named Rory Jansen (Bradley Cooper), whilst honeymooning in Paris with his sweetheart Dora (Zoë Saldana), finds a briefcase with an unnamed manuscript in it.
Rory's first novel, although praised, has been shot down by every publisher due to the volatile market. On a whim, when his confidence starts to flag, he tries submitting the unclaimed novel instead. The book is a huge success but it isn't long before he is found by the original author, now a very old man (Jeremy Irons). As Rory hears the old man's side of the story, a moral dilemma ensues: what is the price he must pay for stealing another man's work?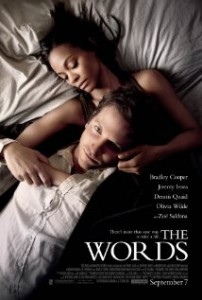 Using a narrator is always a bit risky and unfortunately the risk hasn't paid off here. It is a little ironic that in a story where the sanctity of writing is held high on a pedestal, the writing is what makes this movie such a tedious affair. As we hear Hammond read from "The Words", it is hard to believe that such bland writing would ever come from a supposedly revered author.
The story-within-a-story-within-a-story structure is only there to complicate what essentially is a fairly predictable tale of broken hearts and broken trust. Cue a well-meaning but flawed leading man, a philosophical old codger and a few very attractive leading ladies.
The entire cast including the rather pointless role of Olivia Wilde (playing a seductive fan of Hammond) are actually quite adequate and do the best they can with a lousy script. You can see Bradley Cooper obviously has potential and is trying to distance himself here from his Hangover days. However, this seems a little self-indulgent.
It is not surprising considering Cooper was an executive producer on this. A lot of red teary eyed looks are exchanged, showing off Cooper's impressive emotional range, but some of the soul-searching stares could have been shortened as The Words is a very slow-burning affair.
While you can admire Cooper for trying to look for more challenging roles, you get the feeling writers Brian Klugman and Lee Sternthal (who also directed) thought this was much more interesting than it actually is.
The Words is in Australian cinemas from 11 October through Becker Film Group.