Jackie Cogan (Brad Pitt) is the go to man when you need things sorted out. He is called upon when an illegal mob poker game is robbed by two amateurs (Scoot McNairy and Ben Mendelsohn), pissing a lot of people off. In print the plot certainly doesn't do the film itself justice.
Killing Them Softly may only be director Andrew Dominik's third film, but all this highlights is his incredibly high standard of filmmaking. There is very strong direction here, with various shots are very reminiscent of Chopper, and his fragmented editing style is a powerful way of holding audience attention.
The script is extremely well written (Dominik adapted the George V Higgins novel of the same name), the dialogue very funny with lots of great one-liners and countless laugh out loud moments that will stay with the audience long after they leave the cinema.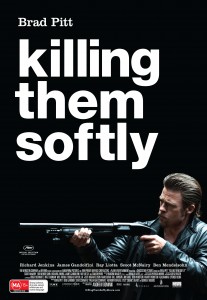 The performances are also of the highest calibre, with Australia's Ben Mendelsohn (Beautiful Kate, Animal Kingdom) yet again proving both his credibility and versatility on screen. We see some familiar mob faces in James Gandolfini and Vincent Curatola (who played Johnny Sacramoni in HBO's The Sopranos), who are just made for these roles.
From the opening shot we hear Obama's voice and it's established the film is set in 2008 when he is running for Presidency. Throughout Killing Me Softly there are numerous parallels between the mob and politics, centering on the current economic situation in the United States. Obama is forever stressing the unity of different cultural and socio-economic groups, but for the characters in this film it seemingly falls on deaf ears.
At 97 minutes Killing Me Softly doesn't overstay its welcome, but (almost literally) packs a punch regardless. While its title might imply otherwise, this film isn't for the faint hearted. Those who get squeamish around violence will definitely feel uncomfortable in a few scenes, with the camera relentless in capturing every moment of brutality. This film doesn't leave much to the imagination in that department, however it never crosses the line into gratuitousness.
This is cinematic storytelling at its finest. Killing Them Softly is one of the best films of 2012 and is not to be missed.
Killing Them Softly is in Australian cinemas from Thursday 11 October through Hoyts Distribution.