1973, Belfast. More than five decades after Ireland was split in half, the Provisional Irish Republican Army has become increasingly restless and violent in their attempts to unsettle Britain's hold on Northern Ireland.  When a young Colette McVeigh (Maria Laird) convinces her little brother to go out to get their dad a pack of fags instead of going herself, he is killed in a crossfire.
20 years on, this event is still fresh in the mind of Colette (Andrea Riseborough), now a single mother. She has herself become embroiled in the conflict as her fiercely republican brothers Gerry (Aidan Gillen) and Connor (Domhnall Gleeson) have continued the IRA cause. Calls for negotiation are growing louder amongst those Irish sick of the violence but her brothers under leader Kevin Mulville (a menacing David Wilmot) won't be persuaded, still burdened by ghosts of the past.
When Colette is caught on a bombing mission in the London Underground, MI5 officer Mac (played by Clive Owen at his best), under the guidance of hardnosed chief Kate Fletcher (Gillian Anderson), offers her a choice: spend life in prison or spy on her own family. She reluctantly accepts but it is a very fine line she must walk to stay out of suspicion.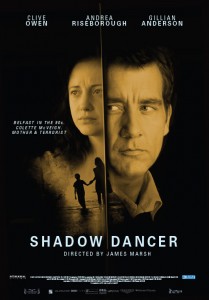 Directed by James Marsh (Man on Wire), this fictional thriller is a gritty representation of Ireland's troubles in the early 90s. There are no frills and not much cheer but then Ireland has never been a pleasant case study. Writer Tom Bradby was apparently a correspondent in Belfast for ITV when these events were happening and clearly experienced a lot first hand.
Here, the domestic neighbourhood masks what is essentially a brutal long-running battlefield. The landscapes are desolate, the family home stark, and everywhere there is a hanging feeling of paranoia. The tension is palpable with years of bombings, assassinations and raids having everybody looking over their shoulders.
Many of the characters in this have very limited parts and yet with minimal dialogue it is amazing how much they manage to divulge so much. Every face and altercation is able to communicate a wealth of pent up history and emotion with feelings of bitterness, tension, fear and guilt all prevalent. Much of this is credit to Riseborough's brilliant performance.
Shadow Dancer's slow pace demands patience of the viewer but the excellent plotting makes this haunting portrayal of the scarred Irish landscape well worth it.
Shadow Dancer is in Australian cinemas from 11 October through Potential Films.