Oh Cal Ormond! (Harrison Gilbertson) You are such a clever young man aren't you?  October's episode of Conspiracy 365 sees Cal escape from a bullet to his skull, break into a bank, 'bird' bug Vulcan's (Rob Carlton) lunch date with Oriana (Julia Zemiro) and all the while waving that luscious mane out of his big blue eyes.  So hot and intelligent you are dear Cal.  It's a pity you're so young. I could really use you around my house. Plus, you're skin has improved considerably as the season progresses, are you secretly using proactive?
Super bestie Bogues (Taylor Glockner) is, as always, wise beyond his years but when he made that false fingerprint using glue fumes and rubber gack I was rolling my eyes just a little bit. It did, however, make for a great laugh when Winter (Marny Kennedy) used the print to break into the bank and it actually worked.  Of course it worked! This is Bogues we're talking about.  He's in year eleven! Hello? Genius? I think that's long been established! Duh!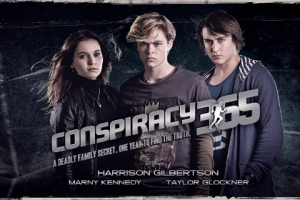 Meanwhile, how's that dirty Uncle Rafe (David Whiteley)?  Drugging Cal's mum and killing lawyer Rathbone (Nicholas Bell) because he wants the 'Ormond Singularity' inheritance all for himself (in his defense he is second in line only by a few minutes as he's a twin, as is Cal, but long lost brother Samuel isn't drugging people to get in on the action is he?) I always knew there was something creepy about him!  He set off alarm bells as a jerk-face from day dot.
The cops finally get onto Oriana as a baddie but only after they are spoon fed taped conversations made by Cal on the aforementioned lunch date.  I was starting to believe I could rob a bank in this town dressed as a turkey and give the money away on the street and these cops wouldn't find me.  Yet, they are smug and they get on my nerves.  Especially the guy one.  Seems too cocky for an incompetent tool. He hasn't been able to catch Cal for eight months and even when he had him handcuffed in a hospital bed (with a guard) Cal still Macgyvered the hell outta there.
How good was it when the pajama man was finally revealed as the photographer of Cal's dads Ireland photos?!!!!! It was a convenient nuisance that he suffered amnesia though.  Real shame.  Perhaps now we can stop looking at flashbacks of him haunting Cal at his dad's funeral? Seeing as he's completely useless and all? Just saying.
So, it's off to Ireland for Cal. How will he pay? Nobody knows! But he'll get there.  He's Cal.  Cal Ormond. 61 Days to go…….
Conspiracy 365 is a Circa Media Production and airs on FMC. You can read more reviews of this series on our Conspiracy 365 page.