Last night's Rake was delicious as always. Scarlet (Danielle Cormack) has found herself providing a false alibi to the piggish Cal McGregor (Damien Garvey) through no fault of her own.  What is her fault, however, is the need to seek outside attention from men like David Potter (Matt Day) and her marriage isn't going to end well.Meanwhile, Barney (Russell Dykstra) accidentally spills the beans about his dalliance with Nicole (Kate Box) in an hilarious scene in a hospital involving drugs, a buzzing fly a broken arm and a miscommunication of the word 'clean break'. Missy (Adrienne Pickering) goes on trial for the murder of her fiancé Josh (Martin Henderson) and with Cleaver (Richard Roxburgh) defending the one thing he cares about most we all knew Missy was bound to be set free, for once, a client of Cleaver was actually innocent!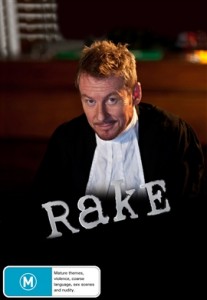 Fuzz (Keegan Joyce) is in a depressed state after older-woman has Sally left him for good and aborted their child without so much as a goodbye, Fuzz delivers the best line of the night when asked how he's feeling about life he replies, ' an unrelenting stream of pointlessness'. Poor Fuzz.  If only he could find a younger girl to love.
Wendy's (Caroline Brazier) feelings for Cleaver grow for a short moment but are shattered when in typical Cleaver style he lets her down and behaves like a stupid jerk in front of a restaurant full of people.  Wendy knows she has made the right decision in divorcing the poor fool!
After a big set-up Cleave is left wasting the courts time and has egg on his face. Again. Just when Cleave almost had all his shit together, it's all fallen by the wayside and he is a failure once more.  The question is: How low can he go?
Rake airs on Thursdays at 8.30pm on ABC1. Read more reviews in this series.