It's hard to believe that The Curse of the Jade Scorpion is Woody Allen's most expensive film with a budget of $26 million. Yes, it looks appropriately opulent and lush for the 1940s time setting, but the film is sadly one of Allen's less popular films. Harking back to the "early funny" days of filmmaking, Curse is reminiscent of Bananas and Take the Money and Run, but with a much older hero.
Allen reportedly regards the film as one of his worst, mainly due to his appearance as the lead. An artist is often his/her own harshest critic, and considering Allen regards most of his films achieving only 40% of his original vision, this definitely rings true here. And yet it needn't be. The Curse of the Jade Scorpion is a fine film.
Curse begins with a change of systems occurring in the insurance office where C.W. Briggs (Allen) works. C.W. is a long-time successful detective, managing to track down thieves and robbers better than anyone else. Betty Ann Fitzgerald (Helen Hunt) has been recently hired to clean up administration and streamline operations, making C.W.'s life annoyingly difficult. Enter the catalyst for change in the form of a magic show where C.W. and Betty Ann are hypnotised, and you've got a plot. From here, the magician Voltan (David Ogden Stiers) has the magic words to place C.W. and Betty Ann into a hypnotic state and carry out every jewel-thieving wish of the Voltan's command.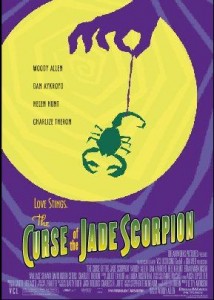 Allen and Hunt are a terrific buddy team, playing the Rosalind Russell/Cary Grant archetypes with perfect witty and insulting banter and just the right touch of double entendres. Hunt especially hits the zingers out of the park with my personal favourite aimed at C.W. ("You can't sleep here, I couldn't afford the fumigating bills.")
Supporting cast is not as strong with Dan Aykroyd quietly joining a forgettable ensemble of players. However, Elizabeth Berkley does make up for her disastrously serious performance in Showgirls (disastrously good of course…) and Charlize Theron makes a return appearance (since 1998's Celebrity) is humourously smouldering as a Veronica Lake look-alike.
New York in the 1940s is remembered with a particular noir aesthetic in Curse, though one without the familiar dusty and grey palette. Cinematographer Zhao Fei (collaborating with Allen for the third and final time) paints a very bright picture instead. The noir detective stories of that era are remembered for their smokier tones best evidenced in films like Double Indemnity. Even if one were to consider Curse as the technicolour equivalent, everything still looks a tad too bright.
Curse of the Jade Scorpion may not have been Woody Allen's most successfully film financially, critically or personally, but it still nonetheless an enjoyable way to spend 90 minutes. Especially for any Woody Allen fan.
Read more entries in our Wednesdays with Woody feature!