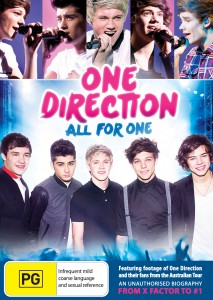 Hit boy band One Direction fans are going to be sourly disappointed with this promotional advertisement disguised as a doco.  To say this is remotely a doco is like saying Will Ferrell should win an Oscar. It is, in fact an unauthorised documentary. And writer/director Sonia Anderson should probably never work again.
The content of this disgrace has no actual video clips of 'One Direction'. In fact it didn't even have any interviews with the boy band. What it did have was clips of other interviews, still shots of the British X-Factor, a ten-year-old girl talking about the band, an old guy from the Bay City Rollers cashing in on a band he knows nothing about, and Harry Styles' nameless (until the final credits) best friend.
There are interviews with loads of people no one has ever heard of nor cares to hear from.  Hacks who wanted to dip their toes in the '1D'pool of awesomeness it would seem.
A narrator – who would be better off voicing Unsolved Mysteries (half the time I felt like they were going to be abducted) – gives us a run down of the following fun facts:
Louis Tomlinson is the oldest, has braces and is the group 'joker'.
Niall Horan is always eating and wishes he was Justin Bieber
Liam Payne has one kidney
Harry Styles used to be in a band called White Eskimo
Zane Malik is the bad boy with metrosexual style
The entire hour (I swear it felt like two) saw all the interviewees saying how great One Direction is.  I assume the fans who are buying this DVD would already know that and didn't need a bunch of wanna be hacks telling them so.
Still, we learn other wonderful things:
The boys had a chef teach them how to cook in the X-Factor house
Harry is the most popular with the ladies and the 32 year old chick apparently nailing him should be protected as she 'loved' him.
What 32-year-woman wants to nail a 17 year old boy? It's actually illegal and called pedophilia.  Just so you know.  The fact this was justified was sickening.
Also sickening were the comparisons to The Beatles.  Look, don't piss in my pocket and tell me it's raining. 1D are so far from The Beatles I actually wish to smash all of their faces with my pricey Andy Warhol Beatles framed print. I have never felt so close to suffocating in a steaming pile of absolute inanity.
I can truly feel the vomit rising in my mouth when 'Diva Fever' (fellow X-Factor finalists and the campest gits in all of merry England) tell us about the necklace one of them gave Harry and how he wore it and then gave it to a girl fan and how, like, OMG, they were so super nice and stuff…
Back in my day bands actually appeared in their own docos.  Plus they sang songs too.
One Direction: All for One is out on DVD in Australia from  4 October.