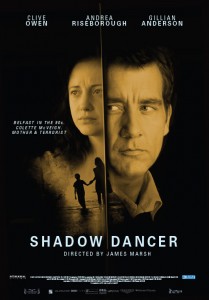 Courtesy of Potential Films, Film Blerg is giving away 5 double passes to see Clive Owen in SHADOW DANCER, in cinemas from Thurs 11 October.
Film Synopsis: From Academy Award winning director James Marsh (Man on Wire), with excellent performances by Clive Owen, Andrea Riseborough (Brighton Rock) and Gillian Anderson.
Based on the book by Tom Bradby. Single mother Collette McVeigh is a Republican living in Belfast with her mother and hardliner IRA brothers. When she is arrested for her part in an aborted IRA bomb plot in London, an M15 officer, Mac, offers her a choice: lose everything and go to prison for 25 years or return to Belfast to spy on her own family. With her son's life in her hands, Collette chooses to place her trust in Mac and return home. But when her brothers' secret operation is ambushed, suspicions of an informant are raised and Collette finds herself and her family in grave danger.
How to win:
Visit our Facebook page and hit the "SHARE" button on the SHADOW DANCER status.
Write "Win tickets to see Clive Owen in SHADOW DANCER" in the write something section.
Send your name and address to giveaways@filmblerg.com with SHADOW DANCER in the subject.
Competition opens 9am AEST Monday 1st October, 2012 and closes 5pm AEST Friday 5th October, 2012.
Terms and conditions
Passes are eligible only to Australian residents.
Film Blerg and Potential Films cannot be held accountable for any delay or loss of prizes.
You must follow Film Blerg on Facebook or Twitter to be eligible.
Any information sent remains confidential.