Time travel doesn't exist in 2044, but it does thirty years later, where the mob send people back to be shot and disposed of, completely erasing any trace of their existence. Those that commit the killings are called 'loopers', with Joe (Joseph Gordon-Levitt) the youngest and one of the most successful going around. This is until he realises the mob have decided to 'close the loop' and send his future self (Bruce Willis) back for assassination. The two meet and, as you can imagine, it doesn't go particularly well. Joe breaks the one rule of loopers – never let your target escape, even if your target is you – and after one moment's hesitation, everything is turned on its head.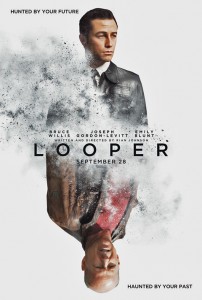 Gordon-Levitt and Willis don't look alike, and it wouldn't be outrageous if you doubted their believability as the same character, however thanks to excellent make up and acting this is all quickly forgotten. The credibility of the story isn't dependent on their physical similarities and while not much has been said about Gordon-Levitt's subtle yet extremely effective physical transformation, his performance has been getting a fantastic wrap worldwide. With incredibly impressive recent performances in The Dark Knight Rises and 50/50 he is proving to be one of the most credible actors around.
There'll be no spoilers here, but in the second half Looper takes an entirely different turn than expected. Joe crosses paths with single mother Sara (Emily Blunt) and her son, the catalyst for enormous change in his life. It's not at all surprising that Blunt agreed to the part after only reading half the script.
While writer/director Rian Johnson's Looper is obviously quite science fiction based, it dabbles in time travel without making the subject too overwhelming for its audience to follow. These characters aren't admirable and they certainly make mistakes, however the film presents fate interspersed with correcting these errors in the hope of creating a more promising future, all the while avoiding the cheesy factor that can sometimes be inevitable with such time travel movies.
Looper holds your attention for its entire running time with two hours simply flying by. After some questionable roles of late, it's a nice reminder of what Bruce Willis is capable of and that at 57 years of age, he's still got it.
Looper is in Australian cinemas from 27 September through Roadshow Films.