For decades, Robert Miller (Richard Gere) he has been at the top.  Turning 60, he is a billionaire and head of a well-established investment company, Miller Capital. However, it only takes an exposed lie to jeopardise it all and some of Robert's are starting to catch up.
Not only does he juggle a demanding mistress, Julie (Laetitia Casta), but he is also waiting upon a signature of the elusive Mr Mayfield (Graydon Carter) to complete a buyout of his own company. Robert owes hundreds of millions, money he borrowed to keep the auditors happy, and the deal has to happen to soon or things could get ugly.
When Julie is killed in a car crash with Robert driving, he flees the scene, turning to a reluctant ally in Jimmy (Nate Parker) to corroborate his story. However, Detective Michael Bryer (Tim Roth) is on the case.  His daughter, Brooke (Brit Marling), who works for him, is also suspicious about some irregular numbers in the company books and his wife, Ellen (Susan Sarandon), who has previously been willing to turn a blind eye, is now having second thoughts.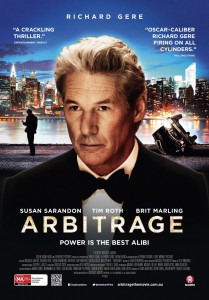 With the recent Global Financial Crisis in mind and directed by Nicholas Jarecki, the corporate face of America is given a severe dressing down. While corruption is the main theme along with an unhealthy obsession with money, the film also touches on themes of class, race and the imperfect law process, giving this quite a large scope for social commentary.
I've never been a fan of Richard Gere and his cheesy smile but he carries this film really well. Miller is a man who is accustomed to living life as it suits him, whose business has overtaken his family in importance, but whose true colours are starting to show under pressure.
Tim Roth steals every scene he is in as the laconic middle-class detective determined to bring his man down to size, his New York drawl a stark contrast to Miller's more cultivated accent. And, Nate Parker is also impressive as a conflicted Jimmy with Brit Marling and Susan Sarandon solid in support.
Cliff Martinez's brooding soundtrack adds atmospheric tension but this film seems to be caught between being a crime drama and a financial thriller. And, while it is well acted, this balancing act means it lacks depth in being either. The abrupt ending is a little unsatisfying in that some threads could have been elaborated but these are minor trifles.
While there is not much new or groundbreaking about this film, it is a well-crafted and effective thriller and one of Gere's better efforts.
Arbitrage will be theatrically released on September 27 through Madman Films