As Ai Weiwei: Never Sorry commences, the title character tells us a story about his cats. Sitting in his lavish apartment, Ai Weiwei observes how only one of his 40 pet felines has the capacity to open doors. If it wasn't for this one audacious cat, Weiwei tells us, he wouldn't have been aware that cats even could open doors.
While this account seems slightly random out of context, it soon becomes apparent that Weiwei – an internationally renowned Beijing artist – is that cat. Portrayed in the film as one of the only people brave enough to fight against the censorship, negligence, and corruption of the Chinese communist government, Weiwei exemplifies how one individual can make a difference.
Alison Klayman's profile of Weiwei is engrossing from start to finish. In her 90-minute insight into Weiwei's career, she not only paints the portrait of a fearless rebel idol, but a down-to-earth accidental father, a NYC-infused hipster, and a Twitter-obsessed technophile.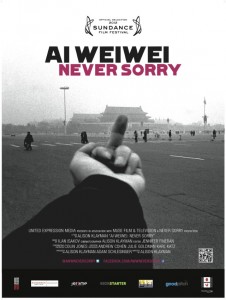 The latter characteristic gives this film a relevant touch, permitting Western audiences to draw similarities between their own social-media utopias and that of Weiwei. The main difference is that Weiwei uses his online time to brazenly mobilise online armies against his nation's legalistic dictatorship, whereas the rest of us prefer to share memes.
With its hidden cameras and amateur cinematography, Never Sorry occasionally resembles more of a child-made home movie than a prize-winning documentary. Nevertheless, this only contributes to the unbelievable authenticity to the whole project.
We are with Weiwei for every step of his journey, whether that involves bustling into police stations, or constructing exquisite pieces of contemporary art. Such is the strength of our companionship that we can't help but feel shocked when the film reaches its inevitable climax.
Like all good documentaries, Never Sorry resonates with its audience long after the credits are over. For impressionable artists or activists, Weiwei is potentially an inspiration – a man in whom to model one's life.
For many viewers, however, Weiwei's story might well be their first interaction with Chinese politics. And even if the film – at its very least – motivates such people into googling "Liu Xiaobo" or the "Sichuan schools corruption scandal" for the first time, then Never Sorry can be considered a success.
Ai Weiwei: Never Sorry is in Australian cinemas from 20 September through Madman Films.