The beginnings of Sweet and Lowdown take root some thirty years before cameras would start rolling in the Fall of 1999. The story goes that United Artists, smitten with Woody Allen after the financial success of Take the Money and Run, snapped the director up into a princely three-picture deal. Eager to cash in on another farce that showcased Allen's comic persona, the UA executives were horrified when Allen turned in a dramatic screenplay that focused on the early days jazz, set against the backdrop of the American depression. Urged by the studio to reconsider his choice, Allen set aside what was then called The Jazz Baby and began writing the absurdist comedy Bananas, which would go on to be a huge success and yield the company over 11 million dollars. It wouldn't be until almost three decades later that Allen would resurrect his jazz inspired screenplay and begin production on Sweet and Lowdown.
Based loosely on Fellini's La Strada, the film is the fictional autobiography of Emmet Ray (Sean Penn), an arrogant, boozy, wasteful philander with an unparalleled ego whose base joys revolve around watching the slow drive of locomotives and taking showgirls to city dumps to shoot rats; he also happens to be the greatest living guitar player in the world. Well, perhaps with one exception, a French gypsy named Django Reinhardt who Emmet admits he can't listen to without weeping.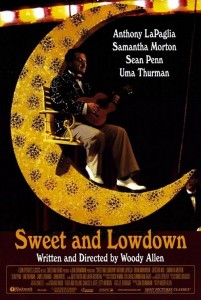 Structured as a docu-drama, the film intercuts between interviews with jazz writers (and Allen himself) who provide anecdotes to some of the more ludicrous stories of Emmet's life, his marriage to a would-be writer, Blanche (Uma Thurman), and his love affair with Hattie, a mute laundress who he meets one day on the Atlantic City boardwalk, played by Samantha Morton.
Ray is by far the most unlikeable of all Allen characters to date; he is boorish, long-winded and unfathomably narcissistic, incapable of feeling anything for anyone other than himself. Yet underneath this rogue exterior is a genuine sweetness, in the moments where we see him play his acoustic guitar, serenity seems to come over his face and beauty out of his instrument. Much of this has to do with the performance by Sean Penn, who is somehow is able to counterbalance his caricature of Ray, with his silly pencil-thin moustache, white suit and constantly wobbling head, with moments of unpretentious honesty and melancholy. Penn's portrayal of Ray is outstanding and he was unsurprisingly nominated for an Oscar.
Equally notable is Morton's work as Hattie, who also received an Oscar nomination. Without so much as a single line of dialogue in the film, Morton brings a presence to her role that all but breaks your heart to watch and makes a callback to some of the great actresses of the silent era. Completely in love with Emmet, Morton reveals Hattie's unconditional affection through her eyes alone and relates more to the audience through the yearning of her posture than any words could say.
Without a doubt, Sweet and Lowdown is one of Woody Allen's most underrated gems and deserves to be considered among his best. The careful balance between absurdity and tragedy are masterful; the performances are some of the best yielded by the director; and the combination of Chinese cinematographer, Zhao Fei, and production designer, Santo Loquasto, makes every frame of celluloid stunning to look at.
Read more entries in our Wednesdays with Woody feature!