Event Zero is a web series created by Enzo Tedeschi and Julian Harvey of Distracted Media who won the 2011 Movie Extra Webfest 2.0.   Together they won $100,000 to create a seven part series on youtube based on a trailer of their idea.
Each of the seven episodes runs for approximately five minutes and covers the story of a train derailment from seven characters points of view.
Something other than just a train derailment is going on. Survivors are making it off the train and then dying in the streets of Sydney.  They first begin to scratch as their skin becomes inflamed and then they start coughing blood and within minutes they are dead, everyone who comes in contact is also beginning to die and as the media gets hold of the story we are shown points of view from everyone involved in this unfolding tragedy.
Starring Zoe Carides, Valentino Del Toro, Harry Pavlidus, Luke Arnold, Henry Nixon and Scott Davis we are shown how emergency crews, victims, politicians and police are dealing with what appears to be an outbreak of a deadly virus.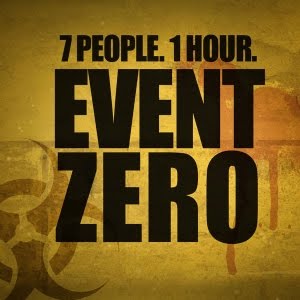 We are shown an innocent Muslim commuter beaten by police to admit his role in the 'terrorist' act, a politician forced by a higher power to make a statement about the outbreak as she waits to hear if her daughter was on the train, emergency service workers who are trying to save lives but dying themselves and a woman who runs home to a husband who has locked her out to protect their baby daughter from something contagious that is killing people off very quickly.
Each part of the series is very intense and it's great to know that it's for a short period of time and there's an answer coming sooner than when watching a movie. However, the last episode was disappointing and a tad cliché and I honestly expected a better, more surprising ending than the old 'Government Conspiracy Theory' which was trite considering each part of the series was so great leading up to it.
Each episode had wonderful performances and looked great.  The stories of these people held the intrigue and each tale was interwoven with each other with perfection, almost as if it was all shot and edited in one day.
Absolutely worth watching.