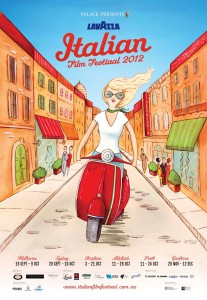 Courtesy of the Lavazza Italian Film Festival, Film Blerg is giving away 5 double passes to two different Italian film sessions, playing this week. All you have to do is show up! They are:
THE BIG HEART OF GIRLS 
Presented by BROWN BROTHERS
Includes Brown Brothers Prosecco, live entertainment & film screening.
Thursday 20 September @ Palace Brighton Bay Cinemas
6.00pm   drinks/music
6.30pm   film
Good-looking Carlino Vigetti is not the brightest man in the village, but he is irresistible to the local womenfolk.  So when it's arranged for Carlino to marry his landlord's daughter to save the family fortunes, all seems set for success – if only Carlino can mend his promiscuous ways…  A nostalgia-heavy 1930s-set tale from veteran multi award-winning Pupi Avati, The Big Heart of Girls is a delicate tragi-comedy of love, compromise and the role of women in Mussolini's Fascist Italy inspired by the story of the director's own grandparents.
TAKE IT EASY
Presented by APERITIVO PERONI & BROWN BROTHERS.
Includes Aperitivo Peroni, Brown Brothers wines, live music & film screening.
Thursday 20 September @ Kino Cinemas
5.45pm   Drinks/Music
6.15pm   Screening
After losing faith in the education system, retired teacher and novelist Bruno has all but given up on life. Currently ghost writing a biography for a former adult star, he also tutors privately to make ends meet. But Bruno's world is turned upside down when he learns that one of his students – a rebellious youth called Luca, is his son.  As the threat of expulsion from school looms over Luca, Bruno tries to help his secret son get his act together.   A poignant story about a man learning to become a father, and a son choosing to become a man.

How to win:
Simply send your name and your guest's name to giveaways@filmblerg.com with ITALIAN FILM FESTIVAL in the subject.
Competition opens 5pm AEST Tuesday 18th September, 2012 and closes 9am AEST Thursday 20th September, 2012.
Terms and conditions
Passes are eligible only to Australian residents.
Film Blerg and the Lavazza Italian Film Festival cannot be held accountable for any delay or loss of prizes.
You must follow Film Blerg on Facebook or Twitter to be eligible.
Any information sent remains confidential.