We first met Greg Heffley (Zachary Gordon) two years ago when he was just entering high school. Back then, he was a young kid intent on climbing the social ladder. As he prepares for the holidays in Diary of a Wimpy Kid: Dog Days, not much has changed.
Cheerful mummy's boy Rowley Jefferson (Robert Capron) is still his best friend as always. Only this time he is intent on getting closer to Holly (Peyton List), a girl from school. Before she can finish writing her phone number, she is dragged away and this leaves Greg in a bind. No longer able to call her, he is seemingly locked into a summer of activities with dad, Frank (Steve Zahn). But, he tells us, if he can stay one step ahead, it could be the best summer ever.
The books, which the movies are based on (this is the third in two years), have been tremendously popular and director David Bowers has stayed true to the diary theme, introducing all the characters through animated stick-figures. And while I've never read them, the adaptations haven't inspired me to do so.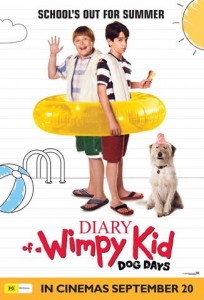 Greg is undoubtedly one of the most unappealing lead characters to appear on screen. Granted, he is supposed to be wimpy which Gordon pulls off with flying colours. But he is also obnoxious, ignorant and selfish and has learnt nothing from his repeated humiliation in the first two movies. He treats his loyal friend Rowley like a concession card and his ego is far too big for someone so short.
This is supposed to be a family comedy and for every turn he takes for the worse, the result is not humour but a hefty sense of schadenfreude. When Greg says, "I think most people would agree that I'm a pretty likeable kid," you can't help but cringe at his vanity.
Frank is a likeable character you can relate to, Rowley seems like a nice kid with a bad influence (something the film acknowledges), and Greg's brother Rodrick (Devon Bostick) is just as wimpy as his little brother. There is also a nice running joke about a local cartoon Greg and Frank both hate but this isn't enough to save the movie.
I'm not entirely sure how this series has lasted as long as it has. People who have read the books may appreciate it more but by the end of this I wasn't thinking what a great lesson Greg had learnt. I was just wishing he'd go away.
Diary of a Wimpy Kid: Dog Days is in Australian cinemas from 20 September 20 through 20th Century Fox.