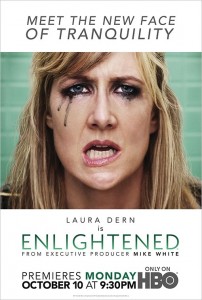 After the first season of an interesting new series on HBO, Enlightened is set to return next January. Though it will be a long wait, we have a special teaser trailer from HBO and there's some things that we can tell already.
Good guest stars/season regulars: Dermot Mulroney seems to be a potential love interest for Laura Dern's character Amy. Molly Shannon may be a potential love interest for Mike White's character Tyler. Maybe. Or maybe she'll play another hilarious supporting, scene-stealing role.
Storyline is not moving away from taking the company down. This is good. We left last season with a metaphorical (and fairly literal) fire as Amy went about some very naughty (but provoked) insider take-down actions. We want that company to crumble to the ground. And like Amy says in this trailer "Isn't it our duty to kick them in the balls on their way out the door?"
We'll be counting down the days, and definitely hitting the refresh button on this trailer a few more times!