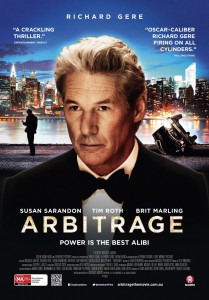 Courtesy of Madman Films, Film Blerg is giving away 5 double passes to ARBITRAGE starring Richard Gere and Susan Sarandon, in cinemas from Thurs 27 September.
Film Synopsis: A taut and alluring suspense thriller about love, loyalty, and high finance, ARBITRAGE stars Golden Globe winner Richard Gere (CHICAGO), Academy Award® winner Susan Sarandon (THELMA & LOUISE) and Academy Award® nominee Tim Roth (ROB ROY)
On the eve of his 60th birthday, New York hedge-fund magnate Robert Miller (Richard Gere) is the portrait of success in American business and family life. But behind the gilded walls of his mansion, Miller is in over his head, desperately trying to complete the sale of his trading empire to a major bank before the depths of his fraud are revealed. Struggling to conceal his duplicity from loyal wife Ellen (Susan Sarandon) and brilliant daughter and heir-apparent Brooke (Brit Marling), Miller's also balancing an affair with French art-dealer Julie Côte (Laetitia Casta). Just as he's about to unload his troubled empire, an unexpected bloody error forces him to juggle family, business, and crime with the aid of Jimmy Grant (Nate Parker), a face from Miller's past. One wrong turn ignites the suspicions of NYPD Detective Michael Bryer (Tim Roth), who will stop at nothing in his pursuits. Running on borrowed time, Miller is forced to confront the limits of even his own moral duplicity. Will he make it out before the bubble bursts?

How to win:
Visit our Facebook page and hit the "SHARE" button on the ARBITRAGE status.
Write "Win tickets to Richard Gere and Susan Sarandon in ARBITRAGE" in the write something section.
Send your name and address to giveaways@filmblerg.com with ARBITRAGE in the subject.
Competition opens 9am AEST Monday 17th September, 2012 and closes 5pm AEST Friday 21st September, 2012.
Terms and conditions
Passes are eligible only to Australian residents.
Film Blerg and Madman Films cannot be held accountable for any delay or loss of prizes.
You must follow Film Blerg on Facebook or Twitter to be eligible.
Any information sent remains confidential.