Last night's episode of The Newsroom really took me by surprise. I've become accustomed to the work relationship dynamics between the five principal characters, as well as the idyllic and romantic notions Aaron Sorkin has with contemporary news, or rather takes on like a game of fantasy football. One element that was missing was true emotion. Anyone who has turned on the 6 o'clock news faced with updates on mass shootings or devastating natural disasters know that news reporting comes attached with an emotional response.
While most of the storyline took place in the New Year's Eve party aftermath, it was the final five-ten minutes that were particularly riveting. Breaking news of Congresswoman Gabrielle Gifford's shooting all takes place underneath Coldplay's "Fix You". An emotional song plays out while an emotional story breaks. Sorkin and episode director (and executive producer) Alan Poul place integrity as one of the desired hallmarks of News Night and The Newsroom. The breaking news moments of Gifford's shooting warrant a gold star for Sorkin, Poul and the actors for their efforts.
Before these emotional moments of television, it was Will's (Jeff Daniels) dating that took up most of the allotted screen time. The light-hearted fare's inclusion explicitly commented on the division between infotainment and entertainment. Will's distain for gossip was unsurprising, and at best allowed the chance for a good Sorkin rant to expel from Daniel's mouth. Other than that, the storyline felt a bit stale. That is until Will, Mackenzie (Emily Mortimer) and Charlie (Sam Waterston) discover that the Page Six features are all part of Leona Lansing's (Jane Fonda) efforts to oust Will from his new judgmental news casting throne.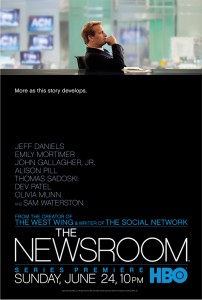 Guest stars included Hope Davis as gossip columnist Nina Howard and Kathryn Hahn as Will's unstable, gun-carrying date. Davis especially signified the casting of interesting women for Will to encounter while the audience still roots for his eventual reconciliation with Mackenzie. And with an actor like Davis, you are actually interested in her character before she throws her New Year's Eve drink in Will's face.
Dev Patel and Olivia Munn managed to steal more screen time this episode, thus proving their worth as slightly more interesting characters, though without significant storylines. Patel is particularly enjoyable as Neal, the enthusiastically geeky blogger/news scanner. Munn displays impressive timing as Sloane, but in this episode, she is portrayed as a hopeless woman with two PhD's whose dating advice could not be more off kilter (a potentially problematic issue gender issue if continued throughout the series).
The Jim-Maggie-Don (John Gallagher Jr., Alison Pill and Thomas Sadoski) love triangle persists in what will undoubtedly be a season (if not series) constant. Fights, yelling and longing looks have exhausted the actors who are in desperate need of something much juicier. Without any progression, the storyline will move from lackluster to painfully tedious. But I still have hope.
Surprising and captivating viewing, The Newsroom impresses weekly and takes it up a notch each week.
The Newsroom airs Monday nights on the SoHo channel. Read more episode reviews of this season.