Given that the previous two Madagascar films ended with sufficient resolve, DreamWorks never needed to extend the Madagascar franchise beyond a single film, let alone two. Nevertheless, few are going to complain about the company's decision to prolong the lifespan of the animated series. In the third instalment, the reliable cast of affable wildlife once again deliver in what is yet another fun and surreal sequel.
As the subtitle suggests, Europe's Most Wanted takes the four lead characters out of Africa and into Europe. For the benefit of forgetful audiences, the film begins with a token dream sequence, where all the important plot points from the preceding movie are recounted. While it takes a while before a clear storyline is established – I counted at least 40 minutes – the last half of the film is greatly entertaining, if not a tad ridiculous.
While the third Madagascar act doesn't add anything particularly profound to its ancestors, it succeeds at putting a smile on the faces of its audience. Writer-director Eric Darnell clearly isn't afraid to attempt the ludicrous, adding quirky storylines and unorthodox gags to the screenplay wherever possible.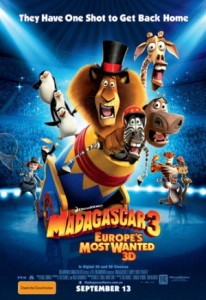 Two new characters, in particular, make this tertiary release worthwhile. The first is Captain Chantal Dubois (Frances McDormand), a ruthless taxidermist who defies all laws of physics and morality. Dubois is a Cruella de Vil for the noughties generation, a defiant antagonist unyielding in her pursuit of Alex the Lion's (Ben Stiller) head on a platter.
The other fresh face is Sonya the Bear (Frank Welker), the unlikely love interest of King Julien (Sacha Baron Cohen). While her dialogue is kept to a minimum, she and Julien combine to be a hilarious on-screen couple. Moreover, the sexual tension between them is more explicit than what most kid flicks usually permit.
Besides the Sonya-Julien scenes, there isn't an abundance of memorable subplots or laugh-out-loud punchlines. Older audiences, however, will appreciate the regular cheeky gags. This is never more evident than when new character Vitaly (Bryan Cranston) delivers a mischievous one liner, which is as close to a swear word as a family movie will get.
What the film lacks in quotability, though, it makes up for in visual spectacle. The 3D effects are never too overbearing and they complement the impressive computer animation without being too distracting. The Madagascar series remains the benchmark for contemporary cartoon animation and this series fits the model, while remaining fresh and lively.
Madagascar 3: Europe's Most Wanted will be released in Australian cinemas on 13 September through Paramount Pictures.