As season two of Rake approaches, it feels appropriate to look back to what has happened so far. Last season saw our beloved Cleaver Greene (Richard Roxburgh) in a lot of trouble.  He slept with his best friend Barney's (Russell Dykstra) wife Scarlett (Danielle Cormack) and took more cocaine than the average junkie on payday.
He fell in and out of love with Missy (Adrienne Pickering) as she began a relationship with mongrel politician David (Matt Day) that ended very badly for him as her lies were revealed.  Now, she is gone and Cleaver is alone in the world once more.
Fuzz (Keegan Joyce) finally stopped sleeping with his high school teacher and seems to be back on track but with a father like Cleave it's only a matter of time before the poor boy has serious mental health problems.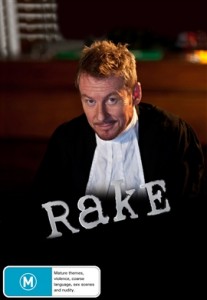 Cleaver might have won most of the cases in the courtroom but he's certainly not winning in any aspect of his personal life.  He's been punched, kicked and threatened over his gambling debts and still plans on having that 'one big win' that will fix everything.
Poor deluded old Cleave. He is a troubled soul that is a genius underneath.  He set a cannibal free for goodness sake! The best and worst part about him is that he clearly has no morals and has no limits to his bad behaviour as season one has shown us.
Going into season two let's hope he can try to sort his life out and stop waking up in random gutters on the streets of Sydney. Although, watching him destroy his life is so much fun. Will Missy return? Will David get his revenge on Cleave? Can Scarlett and Barney work?
Get ready as season two approaches.  This is going to be a hell of a ride.
Rake Series 2 begins Thursday 6 Sept at 8.30pm on ABC1 and airs each Thursday. Read more reviews in this series.