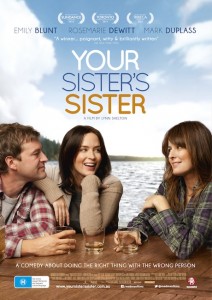 Having not properly dealt with the death of his brother, Jack (Mark Duplass) is sent by his friend Iris (Emily Blunt) to go and stay at her family's remote cabin. What he doesn't realise is her older sister Hannah (Rosemarie DeWitt) is also staying there, dealing with her own demons after walking out on a seven-year relationship. They stay up late drinking tequila and end up sleeping together, which sparks off a chain of events that will completely change their lives. Oh, and just to further complicate things, Iris is the former girlfriend of Jack's deceased brother.
This film is a character study of three people, putting emphasis on their development, rather than the development of the plot. The performances are really moving and it's quite impressive that the majority of the dialogue was improvised, certainly making a very strong case for actors coming up with their own lines more often. The actors seem very comfortable with their characters and each other, however despite Jack's loveable nature, he lacks any sexual chemistry with both Iris and Hannah, which in turn makes the whole premise a little unbelievable. For a film essentially about love, this is a vital part which could have been fixed with more atuned directing from Lynn Shelton (who also served as the screenwriter) or perhaps better casting.
Making mistakes is an important part of life, and these characters are certainly no strangers to this. The film certainly has a nice message, with the emphasis on the importance and bond of family holding everything together. There is a whole lot of intimacy mixed with countless complexities that makes Your Sister's Sister funny, heartfelt, sweet, uncomfortable and awkward at times. For the most part it's lovely to watch, but the plot is just a little too predictable. It's not a long film, yet at times feels like one. The ending was also disappointing, seeming like an easy way out that does not satisfy the audience.
Your Sister's Sister is in Australian cinemas from 6 September through Madman Films.