News Night 2.0 gets off to a cracking start after last week's Oil Spill coverage. If the team were questioned for being too accomplished too quickly, then episode two makes up for the quick smart. In fact, the team manage to fail on so many accounts.
Standard television form dictates that there are usually three storylines happening within the one episode. Last night's episode saw: 1/ Will (Jeff Daniels) asking Mackenzie (Emily Mortimer) to keep mum about the demise of their relationship; 2/ Maggie's (Alison Pill) proving her worth as a credible team member; and 3/ Will's moral conscious debating ratings versus content and which drives the other.
Though Mackenize, Maggie and Will all fail in their attempts to make the smartest decisions in their respective storylines, there is no loss of hope and moral fortitude that the series is running on. No matter how desperate, needy, whiny, incomprehensible, or down-on-their-luck these characters are, Aaron Sorkin's script and Alex Graves still redeems them to the extreme. And there's only so much admirability that a viewer can take in an hour.
Luxuries of hindsight that existed in the pilot has evaporated for now, but it feels like only a matter of time before the team will be covering another large news story with much more grace, class and integrity than the actual media in reality. While Sorkin is no stranger to admirable characters who are idealistic, the pilot of The Newsroom took a step too far towards actually achieving this. Thankfully the second episode provided some stumbling blocks.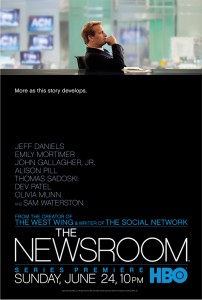 Three main relationships continue along as the love triangle between Maggie, Don (Thomas Sadoski) and Jim (John Gallagher Jr.) fires alongside the rapid speed of dialogue. Pill is enjoyable as Maggie, and her character shows many signs of development over the series. Sadoski is fine too as Don, and plays the closet thing the series has to an antagonist so far. Gallagher isn't as enjoyable as I would have expected though. His constant, no-breathtaking banter is nothing new to a Sorkin script, but there's just something missing. Gallagher is much better at the quieter moments, best seen in the getting drunk scene at the end of the day. An unbelievable authority exists and perhaps that is part of the troubling aspect of his character.
Daniels has a strange presence in this series. Like the employees at News Night, it's clear that we have a perception of his character as an asshole. Maybe it's because he is always shouting at someone and being a general dick. Thankfully, like Jim, he is given some quiet moments when the dialogue takes a break, and the terrific actor has a chance to capture our attention without words, words, words!
Standing out once again is Mortimer, although it is annoying that Mackenzie can be a super-savvy, on-the-ball producer, and yet not manage to send an email correctly or make a simple presentation without tripping on some object. One can only hope her general clumsiness doesn't continue to override her intelligence, in lieu of some lighter comedic moments.
Episode two took the show to some much needed humility heights, but it still needs to remember to not spend too much time being unbearably admirable. Luckily, next week's episode promises as guest appearance from the amazing Jane Fonda. And that is something to get excited about.
The Newsroom airs Monday nights on the SoHo channel. Read more episode reviews of this season.