Visions of the apocalypse aren't new in the world of cinema and particularly in recent times these stories seem to have given screenwriters new verve. Perhaps the climate predictions are giving us doubts of survival beyond the next few decades. Or perhaps it's morbid curiosity as to what instincts humans will turn to when facing inevitable death. Whatever the reason, the genre which has lately brought us 2012, The Road and Melancholia, has yet another addition in the oddball comedy Seeking a Friend for the End of the World.
Written and directed by Lorena Scafaria in her directorial debut, the film is set up to portray a despairing world held at gunpoint.  An asteroid named 'Matilda' is earth-bound, promising a dinosaur's fate after the last effort to deflect it fails. This gives the world three weeks. If you've seen The Simpsons episode "Bart's Comet", you could probably afford to skip the introduction.
Dodge (Steve Carell), an introverted insurance firm worker, has chosen to accept the death sentence in solitary depression after being left by his wife (played by Carell's actual wife Nancy Carell) in the opening scene. When a proposed last hurrah hook-up with the ditzy Karen (Melanie Lynskey) fails to appeal, Dodge flees only to wake up in a park and find a dog left in his possession.  His thoughts turn to his high-school sweetheart, the traditional "one that got away" story.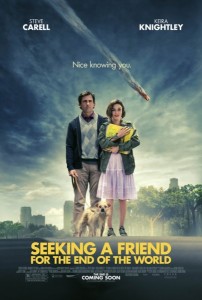 A chance encounter with Penny (Keira Knightley), an eccentric British girl living downstairs in his building, allows them to strike up a friendship. Dodge plans to get out of town and handily for Penny, knows someone with a plane so when a riot threatens to put an early (or earlier) end to their lives, they embark on a road-trip.
The first half-hour is surprisingly bleak for a movie promoted as a quirky rom-com. And with strong suicidal themes to start, I was confused as to when and whether I was supposed to laugh.  Though once we're left in absolutely no doubt that the world is effectively conducting its own funeral, it finds its feet as a classic road movie/odd-couple romance. At times, SFEW threatens to become caught up in stunts as they trek through the countryside but minor thrills are fleeting and the pace is consistently plodding. As a result, it does get a tad soppy.
Steve Carell and Keira Knightley are a surprising mix but have developed a solid chemistry and their friendship drives the narrative well. Carell, whose Office (US) fame continues to pay dividends, plays Dodge with believable bewilderment and Knightley's Penny swings between despair and calm almost voluntarily. Because, the latter's character people will either love or hate. It is a pity for Knightley that she will inevitably polarise the audiences because this role actually suits her well. Community fans will also enjoy cameos from Gillian Jacobs as a very intimate diner-waitress and Rob Corddry as Warren. Credit for the dark comedy affect also has to go to the Scafaria's screenplay which has managed to transform such a morbid theme into an ultimately feel-good work.
This is a thoughtful film with primary focuses are on grief, coping mechanisms and ultimately the worth of a strong friendship. By no means groundbreaking, this sensitively handled yet darkly comedic journey is a satisfying two hours but not one I'd add to the DVD cabinet.
Seeking a Friend for the End of the World is in Australian cinemas from 30 August through Roadshow Films. The film also played at the 2012 Melbourne International Film Festival.