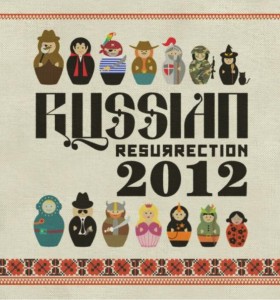 Courtesy of the Russian Film Festival, Film Blerg is giving away 10 double passes to a valid session of the RUSSIAN RESURRECTION FILM FESTIVAL, which screens across Sydney, Melbourne, Brisbane, Perth and Adelaide from 5-30 September. Visit the festival website for more information.
Don't miss the chance to see the largest Russian film festival outside of Russia!
Festival Notes: The year 2012 – commemorates the bicentenary of Russia's 1812 defeat of Napoleon, celebrates 70 years of Australia-Russia diplomatic relations and marks the ninth Russian Resurrection Film Festival. The largest festival of Russian Cinema outside of Russia today returns to screens Australia-wide this August and September sharing powerful cinematic moments in Sydney, Melbourne, Brisbane, Canberra and Perth.
This year's selections include:
Vysotsky, the most successful Russian box office film of 2011-2012
The hauntingly powerful crime thriller Home
Two Days – The classic Russian conflict between intellectuals and the rich and powerful as to what is to be done with Russia's future.
Gromozeka is a bittersweet drama that combines the parallel lives of former band members twenty years on and how their lives continue to intersect.
The multi-award winner, There Once Lived a Simple Woman
Match, a story of love, football and war that is based on a true war story.
Festival favourite, Shakhnazarov returns with a remarkable war flick, White Tiger – a mystical tale about an indestructible Nazi tank.
A spy-thriller appropriately named Spy
2012 features not one, but two retrospectives – classic Chekhov screen adaptations (The Duel & Mikhalkov's much loved Unfinished Piece for a Player Piano) which complement the new romantic interlude about Chekhov himself.
Get in early for tickets to experience one of the most eagerly awaited cinema events of all time: Bondarchuk's Oscar winning epic: War & Peace in an all-day marathon screening.
How to win:
Visit our Facebook page and hit the "SHARE" button on the RUSSIAN status.
Write "Win free tickets to the RUSSIAN REVOLUTION FILM FESTIVAL" in the write something section.
Send your name and address to giveaways@filmblerg.com with RUSSIAN in the subject.
Competition opens 9am AEST Monday 27th August, 2012 and closes 5pm AEST Sunday 2nd September, 2012.
Terms and conditions
Passes are eligible only to Australian residents.
Film Blerg and the Russian Resurrection Film Festival cannot be held accountable for any delay or loss of prizes.
You must follow Film Blerg on Facebook or Twitter to be eligible.
Any information sent remains confidential.