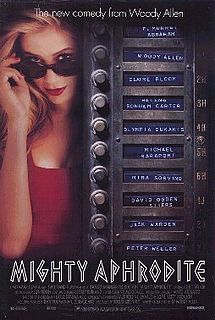 "Achilles only had an Achilles heel… I've got an Achilles body."
Seven years after being coerced into adopting a baby boy by his art-dealing wife Amanda (Helen Bonham Carter), sportswriter Lenny Wienrib (Woody Allen) is starting to question the parentage of his son. The boy's "award winning genes" must have come from somewhere and this nagging curiosity causes Lenny to track down his son's mother. Against his lofty expectations, she turns out to be a Linda Ash (Mira Sorvino), a gorgeous but nonetheless ill-mannered ex-hairdresser, turned prostitute and sometimes-porn actress who goes by the screen name 'Judy Cum'.
The body of Allen's 27th film is focused on Lenny's obsession with bettering Linda's lot in life; firstly by trading her 'contractual' freedom for a pair tickets to the New York Knicks and then by setting her up romantically with would-be onion farmer, Kevin, played with terrific confusion by Michael Rappaport.
What elevates this comedy from other like-minded farce is the subtext of Greek tragedy. Veiled subtly as a retelling of Pygmalion, Allen intermittently shifts the film's setting from Manhattan to a vacated amphitheatre in Taormina, Sicily, where a masked Greek chorus annotates the story. Allen uses this narrative device with exceptional proficiency, allowing for some of the films funnier scenes. At a certain point in the film Allen begins to interact with the fictional characters, much like the director's acknowledgment of the audience in Annie Hall, the lines between the Greek's narration and Lenny's 'real life' Greek tragedy become blurred; Cassandra appears to make dire prophecies, Tiresias delivers plot advances, while F. Murray Abraham (the leader of the chorus) continually argues morals with Lenny at every turn.
The ultimate strength of Mighty Aphrodite lies in its casting, everyone in this film is brilliant. Sorvino's high-pitched, sexually confident but nonetheless crass portrayal of Linda won her an Oscar and not surprisingly so. Her entrance into the film offsets Allen's archetypal coward and the scenes between the two have the conformability of some of the director's funniest banter. Terrific performances are abound as Rappaport and Abraham both easily keep up with Woody and Sorvino, while cameo appearances from Peter Weller as Jerry Bender, the art colleague with the power to mentally undress Amanda, and Jack Warden's Tiresias 'Blind Seer of Thieves' engrosses the viewer's attention with minimal screen time.
It was always going to be tough following up the brilliance of Bullets Over Broadway, but with Mighty Aphrodite, Woody shows his unparalleled talent to balance the absurd with genuine and believable characters, and all under the trim runtime of 95 minutes. If you prefer your Allen films to tunes like The Purple Rose of Cairo and Radio Days then Mighty Aphrodite should be next on your list.
Read more entries in our Wednesdays with Woody feature!