It's rare for a film to come along which is so unique, and downright bizarre, that it completely defies any attempt at categorisation, and reminds you that the possibility for innovation in cinema is nowhere close to being exhausted. Leos Carax manages to do just that in Holy Motors, his first feature film in over a decade, and which quite rightly, is riding a wave of publicity since its premiere at Cannes earlier this year.
The film is best described as an experimental odyssey through the streets of an at times unrecognizable Paris. Dennis Lavant plays a mysterious figure chauffeured around in a white stretch limousine, equipped with a theatrical dressing room, in order to prepare for  a series of "appointments". At any one point in the film, the protagonist assumes the role of old woman, wealthy businessman,tramp, assassin, and a range of other seemingly unrelated personas.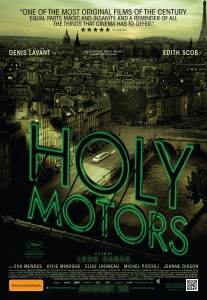 If the above sounds only the slightest bit unusual, it really is only scratching the surface as to how wonderfully weird Holy Motors truly is. To give away anymore would only ruin the films primary source of pleasure, as it shifts from one surreal encounter to another, completely defying expectations as to where it will take you next. It's no secret to mention that Kylie Minogue makes an appropriately random and memorable cameo, even taking the film into one of a number of musical interludes that feature throughout.
Carax also infuses his film with an equally wide ranging emotional gamut, it is not uncommon for a darkly comic sequence to be followed with a heart wrenchingly sentimental one, and vice versa. But more often than not, Holy Motors is nothing but joyous and euphoric, as the director's passion for the project is particularly evident. The end result is a film that truly gives the sense that anything is possible, even one which still manages to be grounded in contemporary reality.
Holy Motors' blatant ambiguity will be the source of many an argument as to the film's ultimate meaning (if any),undoubtedly ensuring its place in the cult canon for some time to come. It goes without saying that this is definitely not a film to be missed, and is potentially one of the best and most original of 2012 so far.
Holy Motors is in Australian cinemas from 23 August through Icon Films. It played to sold out screenings at the Melbourne International Film Festival.