Following in the footsteps of countless (mostly American) direct to video movies, Bad Karma is a crime thriller about what happens to the reformed when their past catches up with them, and as with most of those DTV efforts, the past here also comes in the form of a psychotic criminal out for revenge and the results are from the outset entirely predictable.
The story of the film concerns an ex-pat American Molloy (Ray Liotta) who we meet as a drug addled low rent criminal living in Sydney. He is contacted by Mack (Dominic Purcell) and the two plan a drug heist together that would see them set up for life. Unfortunately Molloy gets so stoned prior to the robbery that he has a heart attack and crashes his car into a shop front and Mack, proceeding anyway, is arrested when one of the dealers he plans on ripping off turns out to be an undercover police officer. Three years later Molloy has cleaned up his act after a brief stint in prison and finds himself living on the Gold Coast in Queensland and about to ask his girlfriend, Kelly (Vanessa Gray), to marry him. Of course Mack shows up after his own stretch in prison (three years for armed robbery?!) and proceeds to torment Molloy into helping him with another score.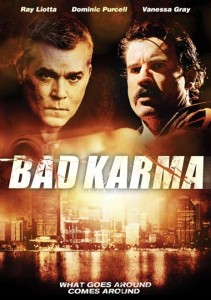 Bad Karma is by the number film making all the way. The analogy to direct to video movies is apt, because that's basically what the film is. It lacks any visual flair or interesting idea's to take the well-worn concepts and turn them on their heads or even make them remotely fresh. The best that can be said of Suri Krishnamma's direction is that it's competent, and that's not saying much at all. The tired screenplay descends into a labyrinth of clichés that soon becomes boring and loses any engagement of the viewer completely.
The performances in the film fair slightly better. Ray Liotta is a movie star in the best possible sense of the term. He has a natural intensity that makes him immensely watchable in almost anything and this is no exception. Even if he has a tendency to lumber through stretches of the film, he is genuinely effective when he needs to be. Aaron Pederson comes out of the film with his dignity wholly intact as Malloy's friend and Vanessa Gray is stronger than the film deserves as Kelly. Not so effective is Dominic Purcell who chews the scenery as the bad guy in the worst possible and least convincing way.
Bad Karma is an unoriginal and boring tread through a tired subgenre that is consistently marred by a weak story, terrible dialogue and a horrible performance by Purcell. Hopefully the karma of the film makers after this effort will fare better than that of the characters of the film.
Bad Karma is in Australian cinemas from 23 August through IFM Films.