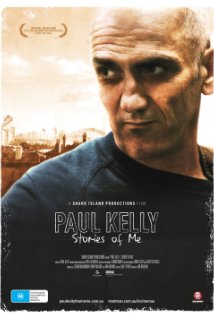 Cultural Australian icon Paul Kelly's life has been brought to the screen in the form of a documentary by Ian Darling. Not holding to the standard form of a linear biographical narrative, Stories of Me weaves back and forth through tales of Kelly's upbringing, rise to success, writer's block, activism, family struggles and drug addictions. Kelly's songwriting style is also dissected to an interesting degree, where his influences and influence are noted with appropriate credence.
There is nothing too out of the ordinary though about this documentary, not that this is at all a negative. It is fairly stock standard in its approach towards celebrating its subject. It goes behind the man, the myth, and the legend that is Paul Kelly, with enough archival footage, interviews, performances, and words from the man himself.
Quickly selling out in a day, Stories Of Me had its world premiere on Saturday 4th August, and unsurprisingly the atmosphere was abuzz (especially with Kelly's attendance.) There was something in the air; a palpable energy only felt usually at a rock concert, and often at festival screenings. In this aspect, the documentary didn't let its audience down and showered the Forum Theatre with plenty of Paul Kelly love.
Stories of Me is thoroughly enjoyable, and Kelly fans will be pleased with the ground covered, providing enough of an insight to still keep Kelly as slightly enigmatic.
Stories of Me is screening in the 2012 Melbourne International Film Festival. Check here for screening times. It will be later released through Madman Films.