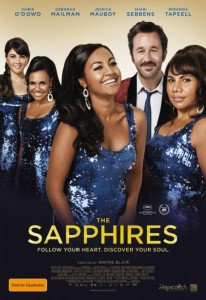 Courtesy of Hopscotch Films, Film Blerg is giving away 3 double passes to THE SAPPHIRES in cinemas from Thurs 9 August.
Film Synopsis: The Sapphires is an inspirational tale set in the heady days of the late '60s about a quartet of young, talented singers from a remote Aboriginal mission, discovered and guided by a kind-hearted, soul-loving manager. Plucked from obscurity, the four spirited women with powerhouse voices – called The Sapphires – are given the opportunity to entertain American troops in Vietnam. Catapulted onto the world stage as Australia's answer to the Supremes, their journey of discovery offers them not only the chance to show off their musical skills, but find love and togetherness, experience loss and grow as women.
The Sapphires is an adaptation of the hugely successful Australian stage musical of the same name, and is inspired by the remarkable true story of writer Tony Briggs' mother and three aunts. The four Sapphires are joyfully played by AFI Award winner Deborah Mailman, Australian pop sensation Jessica Mauboy and newcomers Miranda Tapsell and Shair Sebbens. Bridesmaids actor Chris O'Dowd delivers a tour de force comic performance as their manager, that is at once incredibly funny, likeable and genuine.
Receiving a ten minute standing ovation at the prestgious Cannes Film Festival, The Sapphires is a crowd-pleasing combination of comedy, heart and romance and an unbeatable soul music soundtrack, set against the racial and social upheaval of the late 1960s. A jewel-bright charmer and an Australian classic, The Sapphires is not to be missed.
How to win:
Visit our Facebook page and hit the "SHARE" button on the Sapphires status.
Write "Win free tickets to see the new Aussie film THE SAPPHIRES" in the write something section.
Send your name and address to giveaways@filmblerg.com with SAPPHIRES in the subject.
Competition opens 9am AEST Thursday 9th July, 2012 and closes 5pm AEST Sunday 12th August, 2012.
Terms and conditions
Passes are eligible only to Australian residents.
Film Blerg and Hopscotch Films cannot be held accountable for any delay or loss of prizes.
You must follow Film Blerg on Facebook or Twitter to be eligible.
Any information sent remains confidential.