Jay Roach brings back some inappropriate humour, bathed in a Hollywood budget with two of the most popular comedic actors of the time. Whether by merit or the overrated star machine, Will Ferrell and Zach Galifianakis are hugely popular stars, and placing them together seems a marketing team's dream. Luckily enough, The Campaign is actually quite enjoyable and genuinely funny.
Two rival candidates fight out the nasty political campaign trail in an effort to make it to Congress. Cam Brady (Ferrell) has held his seat as Congressmen for a few terms and is running again unopposed. That is, until two money hungry brothers (John Lithgow and Dan Aykroyd) devise a plan to allow for a Chinese buyout of North Carolina. To do so, they need a yes man in Congress who will allow such a takeover. Enter local tour guide Marty Huggins (Galifianakis).
Some moments are hysterical, taking us back to the days of director Jay Roach's Austin Powers films. Other moments are less funny, but still enjoyable and entertaining nonetheless. Ying and yang is dispersed evenly between Ferrell and Galifianakis' characters, making the hero and the antagonist clear from the outset. Roach's involvement also brings his political associated films to a higher record, adding to the already applauded group of Recount and Game Change for HBO.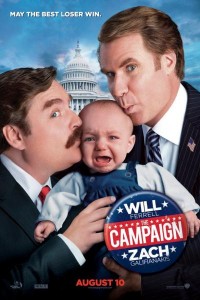 The Campaign isn't without its faults though. Marty's sexuality is treated in a rather perplexing manner. Marty exhibits very homosexual tendencies from the very beginning of the film, to the point where the audience is waiting for that awkward joke about his effeminate behaviour. And yet it never does. Was something left on the cutting room floor that could have been too racy (in the style of The Dilemma?)
John Lithgow and Dan Aykroyd's comedic talents are also extremely underused to the point that Brian Cox received more funny moments in the film (not that wonderful Cox doesn't deserve them of course.) Despite that, Chris Henchy and Shawn Harwell's script is full of great one-liners, and many moments of (likely) improvisational gold.
Complete with one big "they are not going to do that… oh my god, they just did that" moments, The Campaign is a stock standard entry into the summer blockbuster category from one of Hollywood's most influential studios. But with uninhibited performances from Ferrell and Galifianakis, The Campaign is just that more interesting and ultimately funny.
The Campaign is in cinemas from 9 August through Warner Bros.