Manhattan Murder Mystery opens with Bobby Short singing Cole Porter's "I happen to love New York" over the opening credits and adjoining snapshots of the 1990s Manhattan. By this stage in his career – 27 years since his directorial debut and 23 films in – it is beyond clear that Woody Allen happens to love New York.
Long before his later European dalliances, Manhattan was his town (cue the voice-over dialogue from 1979's Manhattan). Allen originally cast then-partner Mia Farrow in the role of wife, but scandal was to recast Diane Keaton in the role of Carol Lipton, wife to Allen's Larry. The pair hadn't appeared together on screen since Manhattan and Keaton had only a brief appearance in Radio Days in the intervening years. You'd be forgiven for thinking that no time had passed.
After a night at the opera, Larry and Carol Lipton meet their neighbours, Mr and Mrs House (Jerry Adler and Lynn Cohen). They enjoy quick conversation (mainly between Carol and Mrs House, as Larry typifies the familiar neurotic and awkward conversation we've come to know from an Allen-cast lead) before separating back to their apartments. A night or two later, Larry and Carol come home to find that Mrs House has had a heart attack and has died.
Unable to shake Mrs House's good health, Mr House's far from bereft mood prompts Carol to start suspect foul play. Enter Ted (Alan Alda), Carol's close friend, who allows Carol to theorise to even greater heights. Carol unlocks further clues, culminating in a mad-cap scene (my favourite of the entire film) that sees her darting around Mr House's apartment while he's out, then having to hide under the bed when he returns earlier than planned.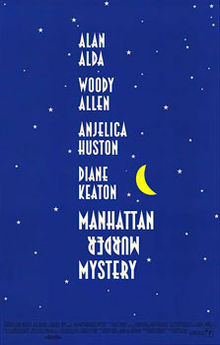 Manhattan Murder Mystery is an adventure film, complete with the usual dose of Allen neuroses, awkwardness and enjoyable comedy. Time has not dated the film, and it still holds up as an innocent and delightful romp through marriage and neighbourly suspicion. Of course, New York City features as one of the loudest characters, and despite not being in the Manhattan style black-and-white, she still looks magnificent.
The players are at their best, with Keaton, Allen, Alda, Adler and Anjelica Huston (as an alluring novelist) giving effortless and brilliant comedic performances. Keaton especially is charming, witty, hysterical with only the slightest of glances, proving her worth as a global treasure (and earning her Golden Globe nomination for her performance).
Originally intended as the script for Annie Hall, the film dazzles with musical interludes like Benny Goodman's "Sing Sing Sing", adding some bounce to car chase sequences while summoning the nostalgia of a foregone era.
Despite being one of Allen's less talked about films, Manhattan Murder Mystery will always shine bright in this critic's eyes. Sure, it doesn't have the ambition of his other films of that era like Shadows and Fog, and the storylines aren't as meaningful as the lust and adultery storylines in Husbands and Wives or Hannah and Her Sisters.  But by borrowing footage from classic noir films like Double Indemnity and summoning a buddy-comedy feel, Manhattan Murder Mystery never tires. 
NB: a personal admission from this critic: Manhattan Murder Mystery was the first Woody Allen film I ever saw, and it will always hold a special place for me.
Read more entries in our Wednesdays with Woody feature.