It doesn't take five minutes until the basic premise of Woody Allen's Husbands and Wives is set up. Jack (Sydney Pollack) and Sally (Judy Davis) announce to their friends Gabe (Allen) and Judy (Mia Farrow) that they are getting a divorce. Though Jack and Sally are calm, cool and collected about the end of their marriage, Gabe and Judy have an extreme reaction.
Gabe and Judy's relationship is aptly put to test while conversations quickly flow on the decay of marriages after the heat has cooled. Witty lines surface with rings of truth echoing strong of starting over in middle age: "an old man does better than an old woman." During a date with a co-worker, Judy unravels having found out that Jack has already fallen in love so fast. In a scene that showcases Judy Davis' hysterical comedic timing, Sally tempestuously storms around her date's apartment, screaming obscenities to Jack into the phone.
Davis earned an Oscar nomination for her performance as Sally, only to unjustly loose out to Marisa Tomei in My Cousin Vinny. Controversy surrounded Tomei's win, with rumours spreading that elderly presenter Jack Palance announced the wrong name. With competitors like Davis, Vanessa Redgrave, Joan Plowright and Miranda Richardson, it is unsurprising.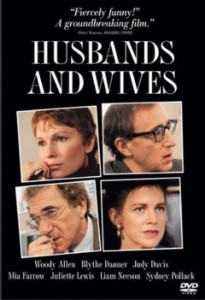 Shot in cinema verite, fly-on-the-wall style, Husbands and Wives is mixed with jerky cameras, quick edits, and brief interviews of the main characters (acting in the place of inner monologues that take place as voice overs such as in Hannah and Her Sisters.) The film is one of Allen's darker comedies, with mediations on love, fidelity, lies, betrayal and marriage. Strangely existing in a period not too far away from upcoming personal shambles with on his on and off-screen partner (Farrow), Husbands and Wives is rather bleak with gloomier work from Carlo Di Palma, and a noticeable amount of swearing in the dialogue.
Youth is thematically included with another younger character positioned as a love interest to the much older Allen archetypal character. Juliette Lewis plays the 21-year-old writing student Rain to Gabe's fifty-something writing professor. Rain is a signifier of youth, temptation and also embodies an intellectualism that attracts Gabe but is repellent to the audience, mainly due to the age difference.
Liam Neeson, Lysette Anthony, Blythe Danner and Ron Rifkin also lend their talents to supporting roles, also including the late, great Nora Ephron as a dinner party guest. Pollack, Allen, Farrow are all quite good in their roles, but it's truly is Davis that steals the show.
Read more entries in our Wednesdays with Woody feature!