If you're looking for a film that combines cheeky black humour with bloody carnage, Jo Nesbo's Jackpot hits the nail on the end. Literally. The  film's gory catalogue of deaths won't please everybody. But Norwegian director Magnus Martens' film is highly entertaining from start to finish, thanks mainly to a clever screenplay and some Tarantino-esque production.
Jackpot begins with all the trademark elements of a dark comedy. A minute into the film, the audience find themselves in a roadside stripclub, littered with erotic paraphernalia, dripping blood and a pile of bodies. It's a brutally violent way to open a film. But there's something about the grungy background music that tells you this morose spectacle shouldn't be taken too seriously. Moments later, when we learn from suspect Oscar Svendsen (Kyrre Hellum) that this bloodbath was the result of a soccer bet gone wrong, it becomes evident that this farce is more Hot Fuzz than Black Hawk Down.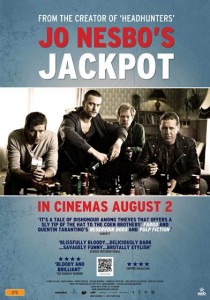 The extent of Quentin Tarantino's influence on Jackpot might frustrate some staunch Tarantino supporters. The repeated use of blood, exotic music and sadistic gags are iconic Tarantino features and Martens often pulls off these tricks just as well as the master himself. As the proverb goes, however, imitation is the sincerest form of flattery and I imagine most Tarantino tragics will be open-minded enough to appreciate the film.
Squeamish viewers will probably spend more time looking at the floor than the screen. But Jackpot has more to it than blood and guts. The fast-paced suspense of the film never falters; audiences can seldom afford to miss a minute of the action. With a running time of 90 minutes, characters are seemingly introduced as fast as they are killed off. Moreover, the clever script ensures every player is critical to the storyline.
Of note is the performance of Hellum, who wins the audience's empathy mostly due to his unfortunate selection of ex-criminal acquaintances. The psychopathic Billy (Arthur Berning) is one of these losers, best described as a scrawny and cold-hearted imbecile. Berning's character is unbearably hateable, but that is what makes his acting performance so memorable. Henrik Mestad also impresses as an elusive interrogator, whose wild switches from good cop to bad cop reflect the film's wavering level of sincerity.
As a word of caution, choosing favourite characters is a dangerous game for the audience; Martens is unforgiving as to who dies and how. It makes for a thoroughly engaging film, but one you probably shouldn't take your date to see.

Jo Nesbo's Jackpot is in Australian cinemas from 2 August through Rialto Distribution.