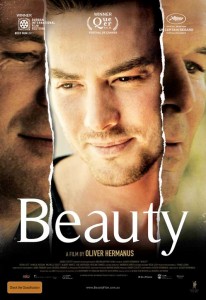 An intense and challenging drama set in present day South Africa from writer/director Oliver Hermanus, centering on a middle-aged family man struggling to resolve his numerous contradictory internal desires.
Beauty's protagonist Francois, played by Deon Lotz, is an unrepentant racist and homophobic Afrikaner, who at the same time, participates in gay orgies and develops an unhealthy obsession with the grown-up son of a family friend. This preoccupation quickly develops into full-blown stalking, as Francois's barely concealed facade of control begins to slip away, with devastating consequence for both him and the object of his fixation.
As much an in-depth character study as an examination of post-apartheid resentment and repression, Beauty is fearless in following its central character's downward spiral in all its gruesome detail. The assortment of hypocritical and unlikeable characters that populate the film, combined with Beauty's cold and detached style, will be a turn off for many. But the film's strength lies in its sensitive insightful look at its contentious subject matter, without stooping to cheap sensationalism.
Anchored by a strong central performance, Beauty is unrelenting in its haunting depiction of the darker aspects of human nature, and is all the better for it.
Beauty is in Australian cinemas from 2 August through Palace Films.