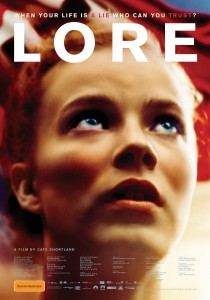 Synopsis: LORE is set in Germany the spring of Spring 1945. As the German resistance collapses and Allied forces sweep across the Motherland, five children embark on a journey which will challenge every notion we have of family, love and friendship. With their Nazi father and mother imprisoned by American and Russian forces, abandoned to an uncertain fate, LORE takes charge of her younger brothers and sister, guiding them from Bavaria across a devastated country, towards the safety of their grandmother's house 900km away to the north. On the road, the children struggle to survive the punishing postwar conditions as Lore begins to understand the reality and consequences of her Nazi parent's actions, their support of Hitler and his disastrous war, their direct knowledge and support of the atrocities of the Holocaust.
Starring: Saskia Rosendahl, Nele Trebs and André Frid
Director: Cate Shortland
Writers: Robin Mukherjee and Cate Shortland, Rachel Seiffert (story)
Australian Distributor: Transmission Films
Release Date: 20 September 2012
Verdict: Another visceral cinematic experience from Cate Shortland, eight years after her impressive debut with Somersault. Looks very intense, and hopefully Shortland's visual style will be as impressive as her last effort.