In much the same way he tackled a completely genre different to his typical comedic work with his pseudo-documentary Zelig in the early eighties, eight years later Woody Allen began the nineties proper with his homage to German Expressionism, Shadows and Fog. As with Zelig, the film marks another one of Allen's preoccupations with experimenting with genre and film form, and like Zelig, it is rich in many of its individual moments but ultimately suffers as a whole because of its distinctive style.
With a plot borrowing heavily from Fritz Lang's classic M, the film concerns a vigilante group's hunt for a serial killer known as "The Strangler" in an unidentified city that is unmistakably Eastern European in feel and constantly bathed in the films titular deep shadow and fog. At the centre of the plot is a book keeper, Kleinman (Allen), who is awakened by the group late at night and told to meet them without further instruction, leading to a night of Kafkaesque nightmares as he interacts with various town folk, seeks direction from the mob and tries to avoid the killer.
Visually the film is striking even if it doesn't reach the splendor of Lang or other expressionist filmmakers such as F.W. Murnau or Robert Wiene. As John Baxter notes in his biography of Allen, such comparisons seem unfair when considering that the film more closely follows the look of the slightly later American genre films (such as the Universal horror cycle) then true Expressionism. Indeed, Carlo Di Palma's stunning black and white cinematography and Santo Loquasto's gorgeous production design is an enormous achievement for a film maker generally more noted for his witty dialogue then his visual aesthetics.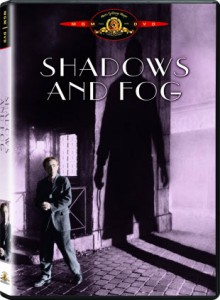 In terms of story though, Allen is right at home, basically using the setting as a backdrop for his standard narrative and thematic concerns. Similar to his character of Boris in Love and Death, his Kleinman, a timid Jewish intellectual, feels very much like an anachronism dropped into the gothic story from another time and place, but it works well and provides a good deal of comedic fodder, with Allen's performance ranking among his best.  He is ably supported by one of his greatest ensemble casts. John Cusack makes his second appearance in an Allen film; Jodie Foster makes a cameo after her Oscar winning turn in The Silence Of The Lambs and character actors like John Malkovich (in one of the best and unusual of Allen's "substitute" roles), Donald Pleasence and Kathy Bates shine. The only flaw with this otherwise splendid film is that the narrative contrasts the style to the point of distraction which not only leaves the viewer cold, but means it never becomes a cohesive whole like his truly great films do.
Despite this relatively minor objection, Shadows And Fog is an amusing and interesting work in Allen's filmography and rates among his most enjoyable.
Read more entries in our Wednesdays with Woody feature!