It is as if Jane Fonda had never been away from the silver screen and here she delights us in her return to the French cinema since starring in Jean-Luc Goddard's Tout Va Bien in 1972. Joining her is the ever-welcome film stalwart, Geraldine Chaplin. Nowadays there is so few an actor on screen that comes from such a legendary dynasty of cinema that both Chaplin and Fonda were born into.
The film quietly follows the lives of five aging friends who eventually decide to move in together after much hinting from Jean (Guy Bedos) and Jeanne (Fonda), who is secretly suffering from cancer, and when their sex-obsessed friend Claude (Claude Rich) suffers a heart attack.
Jeanne's husband Albert (Richard) drifts in and out of moments of senility, which causes for some chaotic mishaps at Jean's house that he shares with his wife, Annie (Chaplin). Jeanne then invites university student Dirk (Daniel Bruhl), initially hired as a dog walker, to use the group as a subject for his thesis on aging population.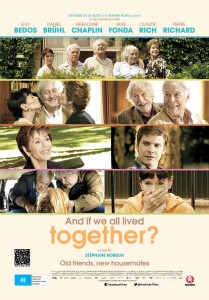 While characters in the film suffer from the pitfalls of old age, such as sexual impotency, cancer and Alzheimer's, director Stephane Robelin does not go down the path of indulging specifics of these ailments. Instead he peppers the script with pangs of sadness and frustration caused by the illnesses, and their effect on loved ones.
The sharp, honest screenplay, also written by Robelin, moves the film along swiftly and the expert cast provide enough chemistry that we can believe these people have been friends all their lives.
It is no easy task to entice the audience away from cinema legends, Fonda and Chaplin, but the male cast members do so splendidly. Their mischievousness is amusing and their awe for the women they love is most endearing. Bruhl exudes tender youth yet commanding much maturity alongside the older cast.
The film is shot bright and vibrantly by cinematographer Dominque Colin, that it seems like each scene is set on a warm summers day. Colin allows the film to be shot with much respect and is uncompromising in otherwise tender, intimate scenes. Chaplin, though not as preserved in age than Fonda, is shot delicately. Despite their age, Bedos and Richard exude a boyish sexiness.
The age of the cast and the subject matter may deter certain viewers from seeing this film. That would be a shame. Robelin provides us with a special film with frankness on sex, love and friendship without ever being schmaltzy.
And If We All Lived Together is in Australian cinemas from 26 July through Madman Films.