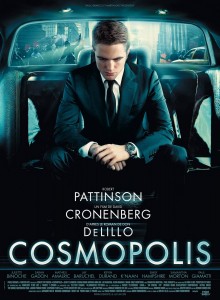 Courtesy of Icon Films, Film Blerg is giving away 5 double passes to COSMOPOLIS in cinemas from Thurs 2 August.
Film Synopsis: New York City, not-too-distant-future: Eric Packer, a 28 year-old finance golden boy dreaming of living in a civilization ahead of this one, watches a dark shadow cast over the firmament of the Wall Street galaxy, of which he is the uncontested king. As he is chauffeured across midtown Manhattan to get a haircut at his father's old barber, his anxious eyes are glued to the yuan's exchange rate: it is mounting against all expectations, destroying Eric's bet against it. Eric Packer is losing his empire with every tick of the clock. Meanwhile, an eruption of wild activity unfolds in the city's streets. Petrified as the threats of the real world infringe upon his cloud of virtual convictions, his paranoia intensifies during the course of his 24-hour cross-town odyssey. Packer starts to piece together clues that lead him to a most terrifying secret: his imminent assassination.

How to win:
Visit our Facebook page and hit the "SHARE" button on the Cosmopolis status.
Write "Win free tickets to see Robert Pattinson in COSMOPOLIS" in the write something section.
Send your name and address to giveaways@filmblerg.com with COSMOPOLIS in the subject.
Competition opens 9am AEST Monday 23rd July, 2012 and closes 5pm AEST Sunday 29th August, 2012.
Terms and conditions
Passes are eligible only to Australian residents.
Film Blerg and Icon Films cannot be held accountable for any delay or loss of prizes.
You must follow Film Blerg on Facebook or Twitter to be eligible.
Any information sent remains confidential.