Christian Bale dons the Batsuit yet again in The Dark Knight Rises, the third and reportedly last of the Christopher Nolan helmed Batman outings.
Nolan's initial reluctance to return and direct a concluding chapter to this trilogy is understandable to some extent. The first two films both set the bar incredibly high as to what a comic book adaptation could accomplish, whilst simultaneously rescuing the Batman franchise from the vapid campy spectacles that it had become associated with as the previous millennium drew to a close.
The Dark Knight Rises takes place eight years after the events of the previous film, with Bruce Wayne (Bale) living in self imposed exile due to Batman taking the fall for the death  of former district attorney Harvey Dent. A run in with cat burglar Selina Kyle (Anne Hathaway), and the emergence of a threat to Gotham City from a mysterious figure known as Bane (Tom Hardy) eventually draws him out of seclusion in order to save the city.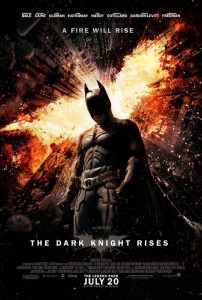 The film is as epic in scope and portentous in tone as the previous two entries. It does an effective job in marrying well choreographed action set pieces with a more thoughtful depiction of Batman as an individual whose actions are primarily driven by anger and grief. Nolan co-wrote the screenplay with his brother Jonathan, and they deftly weave plot threads from the previous films throughout while slowly building up towards an explosive and gripping final reel.
Casting wise, Anne Hathaway defies all the haters in a wonderfully sly turn as Selina Kyle, while Christian Bale is as intense and sombre as ever.  Joseph Gordon-Levitt acquits himself well playing against type as in idealistic young cop, raising the intriguing possibility of a career reboot as an everyman action hero. And Michael Caine as always is a delight to watch playing Batman's long suffering butler Alfred.
The Dark Knight Rises is constrained somewhat in its positioning as the final third of the trilogy, Nolan was arguably too ambitious in introducing the large number of new characters and sub-plots that he does whilst also attempting to tie up the series as a whole. This overabundance of ideas does mean that there is more than enough forward momentum to sustain the film over its 2 and a half hour run time.
Fans of Batman Begins and The Dark Knight should be more than satisfied with this epic conclusion, and although Nolan's and Bale's involvement with the franchise may be over, given the box office returns so far, it's basically a given that Batman will return to cinemas sometime in the near future.