Alice Tate (Mia Farrow) has been wrapped in cotton wool for almost 16 years with her affluent husband, Doug (William Hurt). They live in a vast New York apartment with their children, the live in nanny, a maid and a swarm of personal assistants who cater to Alice's every whim and need.
One day Alice starts to feel a pain in her back and sees a Chinatown healer, Dr Yang (Keye Luke). He intuitively sees Alice's back pain as a symptom of her inner turmoil of longing and repression; Dr Yang prescribes Alice with special herbs.
The herbs possess various powers that allow Alice's usual shyness to unravel, even seducing saxophone player Joe (Joe Mantegna). Eventually she feels compelled to break away from the pampered lifestyle and quench her thirst for a more enriching and rewarding life.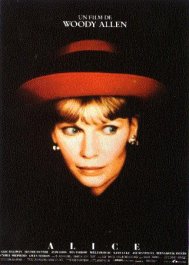 After 11 films together, Farrow's collaboration with Woody Allen was winding down, while the director had pushed Farrow's unique talents to new heights. Creating a more hardened actress not unlike Dianne Weist, Farrow channels her earlier naivety into the innocent and malleable character of Alice, which earned her a Golden Globe nomination.
The delicious all star cast stretch and shape Alice, sometimes in her dreams, imagination or in her real life. Gwen Verdon is particularly moving as Alice's idolized tragic actress mother and Bernadette Peters is a riot as Alice's "Muse" attempting to help Alice write a script and seek recognition from TV executive, Nancy Brill (Cybill Shepherd).
Mantegna is an offbeat romantic choice to play opposite Farrow, oozing enough sleaze to distant himself from Alice's upscale fantasy life. Farrow is at the top of her game when Alice takes the herbs for the first time and has the confidence to uncharacteristically sweet talk Joe.
Frequent Allen cinematographer, Carlo Di Palma, shoots the film brightly as we weave in and out of Alice's shopping haunts, photographing each vignette with intricate intimacy particularly with Vernon's stage lit scenes and Alec Baldwin's ghostly apparition. The fast talking screenplay by Allen was well deserving of the film's sole Oscar nomination. It's intelligent, witty and often profound as Alice begins to look harder through the looking glass for redemption.
One of Allen's most overlooked and underrated films has much to be enjoyed and Alice's journey will resonate with the viewer long after the film ends.
Read more entries in our Wednesdays with Woody feature!