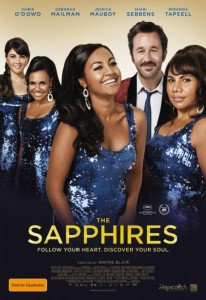 Synopsis: The Sapphires is set in the heady days of the late '60s when four young, talented singers from a remote Aboriginal mission, are discovered by an unlikely talent scout. Plucked from obscurity and branded as Australia's answer to The Supremes, The Sapphires grasp the chance of a lifetime when they're offered their first real gig – entertaining the troops in Vietnam. For the girls, a whole new world of friendship, love, war and soul opens before them.
The Sapphires is an adaptation of the hugely successful Australian stage musical of the same name, and is inspired by the remarkable true story of writer Tony Briggs' mother and her family. It stars AFI Award winner Deborah Mailman and Australian singer Jessica Mauboy alongside Bridesmaids actor Chris O'Dowd, and features an unbeatable soul music soundtrack. Destined to be a smash Australian hit, The Sapphires boasts a great story full of love, laughter and tears, set against the backdrop of the social upheaval of the 1960s, with wonderful performances from the entire cast.
Starring: Deborah Mailman, Chris O'Dowd, Jessica Mauboy
Director: Wayne Blair
Writers: Tony Briggs and Keith Thompson
Australian Distributor: Hopscotch Films
Release Date: 9 August 2012
Verdict: There's a bit of Dreamgirls in this, but there's also something much more interesting. This is a different kind of Australian story that is less familiar on our shores. Looks set to be an interesting film for Australian identity studies, let alone being generally entertaining.