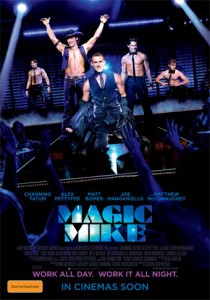 Synopsis: An upstart male stripper (Alex Pettyfer) is taken under the wing of a more experienced colleagues (Channing Tatum, Matthew McConaughey, Matt Bomer & Joe Manganiello).
Starring: Channing Tatum, Alex Pettyfer, Olivia Munn
Director: Steven Soderberg
Writer: Reid Carolin
Australian Distributor: Roadshow Films
Release Date: Thurs 26 July
Verdict: Not what you'd typically expect from Soderberg, but neither is this story really. We usually see females in these types of roles, but the experience is very familiar the hero "do better" genre that has been replicated again and again. Undoubtedly, this film will make money for the thousands of women [and men] desperate to see Channing Tatum dance around scantily clad.