Five years after his silent film experiment, Dr. Plonk, Australian maverick director Rolf De Heer returns to cinema screes with a tale of suburban gothic that alternates between the hysterical and the downright disturbing.
The King Is Dead! begins with a young couple, science teacher Max (Dan Wyllie), and tax accountant Therese (Bojana Novakovic), buying a home together in what appears to be a quiet suburban neighbourhood. As soon as they've moved in though, they discover the house next door is home to a drug addled alcoholic, King (Gary Waddell), and his friends (played by Luke Ford and Anthony Hayes) who throw all night parties, deal drugs and get up to all kids of illegal mischief. They inadvertently push the couple to their limit and when the law is powerless to intervene, they take the law into their own hands, which naturally, leads to absolute chaos.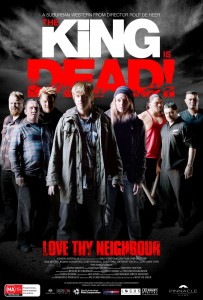 The film is expertly directed. Rolf De Heer consistently shows himself to be one of Australia's most skilled and original film makers, and this is no exception. His use of camera, and more amazingly sound, to create an immersive environment for the audience, is unequaled in contemporary Australian cinema. He has crafted a film where we come to intimately know and sympathize with Max and Therese, and follow them on their descent to rock bottom, and indeed we feel for them when they hit it. His script, if sometimes clunky with its everyday chitchat dialogue, is original in its play on familiar clichés of the genre and its presentation of the stereotypical bogans that live next door. It's when dealing with these characters that it works best. It treads the line between hysterically funny, such as when Ford's character tries to learn a rap song (written by De Heer himself), and scary as hell, such as when the character of King erupts at the prospect that some of the other neighbours are "out to get him". Forget the people you see on A Current Affair and Today Tonight, these are really the neighbours from hell.
The performances in the film are mostly good. Wylie and Novakovic do well as the couple, Novakovic is especially good, and Hayes and Ford provide good support with limited roles. The performance of the film, however, goes to Waddell as King. Going from hysterically funny in one moment to explosively violent the next, the performance is easily one of the best of the year.
Essentially an Australian version of Joe Dante's cult film The 'Burbs, The King Is Dead! is an amusing, if slightly uneven suburban gothic from one of Australia's best film makers.